July 10, 2013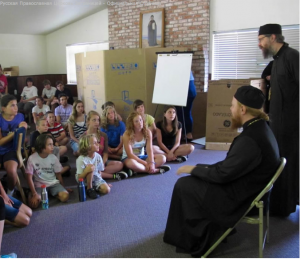 From June 26 to July 5, 2013, with the blessing of His Beatitude Metropolitan Vladimir of Kiev and All Ukraine, and by the invitation of His Eminence Archbishop Kyrill of San Francisco and Western America, His Grace Bishop Jonah of Obukhov, Vicar of the Kiev Metropoliate and President of the Synodal Youth Department of the Ukrainian Orthodox Church visited the Western American Diocese of the Russian Orthodox Church Outside of Russia.
On June 26, Bishop Jonah was greeted at San Francisco International Airport by His Grace Bishop Theodosius of Seattle, Vicar of the Western American Diocese. That evening, he visited Holy Transfiguration Convent in Calistoga, CA (Orthodox Church in America).
On June 27, as celebrations for St John of Shanghai and San Francisco began, Bishop Jonah performed an akathist before his uncorrupt relics, which were brought into the middle of the Cathedral of the Mother of God "Joy of All Who Sorrow" in San Francisco, CA.
On June 28-29, Vladyka Jonah concelebrated at divine services in memory of St Johan at the Cathedral with Archbishop Kyrill and Bishop Theodosius, as well His Grace Bishop Nicholas (Soraich), retired hierarch of the Orthodox Church in America.
On the evening of Saturday, June 29, Bishop John led all-night vigil in the Church of All Russian Saints in Burlingame, CA, where he was warmly welcomed by the long-time parish rector, Mitred Protopriest Stefan Pavlenko.
The following morning, having celebrated early Divine Liturgy at the Chapel of St John of Kronstadt at the cathedral in San Francisco, His Grace headed for St Seraphim Church in Monterey, CA, where he was introduced to its parishioners by its rector, Protopriest George Kurtov.
On July 4, Bishop Jonah led a spiritual discussion at the Cathedral of the Mother of God "Joy of All Who Sorrow" and answered questions.
The following day, Vladyka Jonah returned home.
Source: ROCOR