April 24, 2013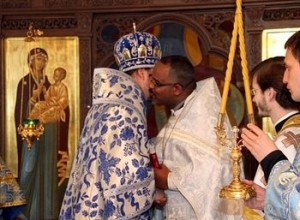 On April 20, 2013, the Saturday of the Akathist, Bishop Nestor of Korsun served a Divine Liturgy in the house Church of the Paris Theological Seminary. At the Liturgy Bishop Nestor ordained into the priesthood Jean Denis Rano, a Frenchman from Martinique Island.
Representatives of the Orthodox community on Martinique and also the priest's relatives were present at the Liturgy. In near future, the newly ordained Priest will be sent to serve in the first parish of the diocese of Korsun on Martinique. The first service in the Orthodox Church of Martinique will be celebrated on Easter.
After the Liturgy, Bishop Nestor shared a meal with teachers and students of the seminary and blessed the frescoes in the refectory that had been completed last week.
Before the service the seminary's rector and students sang the Akathist to the Most Holy Mother of God in the wooden Church. This was the first service in this Church and works on its adornment are continuing, reports the website of the diocese of Korsun.
Source: Pravoslavie.ru