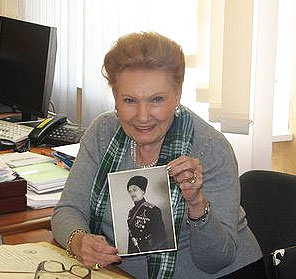 Toronto, Canada
January 11, 2013
The widow of a nephew of the last Russian Emperor, Olga Nikolaevna Kulikovskaya-Romanova, organized a traveling exhibit comprised of personal items of the Royal Family to mark the 400th anniversary of the Romanov Dynasty.
"The exhibit will open on January 16 [2013] in Vladivostok, then travel to Tyumen', Ekaterinburg, Moscow and other cities of Russia," said Olga Nikolaevna, as reported by ITAR-TASS.
The exposition is part of a jubilee program called "From Ocean to Ocean—From Vladivostok to Toronto," initiated by the Benevolent Fund of Grand Duchess Olga Alexandrovna.
"Most of the exponents will be artistic works and letters of the sister of Nicholas II, Grand Duchess Olga Alexandrovna. We brought a picture from the family archives which was a gift to [Tsar] Nikolai Alexandrovich in honor of the 300 th anniversary of the Romanov Dynasty. We will also show personal items belonging to Empress Alexandra Feodorovna from Ekaterinburg. It is very likely that they were in the Ipatiev House, where the Royal Family spent their final days on earth and where they were executed," said Olga Alexandrovna. Her husband, Tikhon Nikolaevich Kulikovsky-Romanov, the son of Grand Duchess Olga Alexandrovna, cherished everything he had which was connected to his family.
Olga Kulikovskaya-Romanova, who recently celebrated her 85th birthday, lives in Canada, but spends most of her time in Russia. The charity she founded helped Russians in the difficult 1990's by providing food and medical equipment, and to this day provides aid. Olga Nikolaevna published several books about the Royal Family, her husband, his mother, grandmother and grandfather, Tsar Alexander III, and Empress Maria Feodorovna, and about her spiritual father, Protopriest Leonid Kolchev.