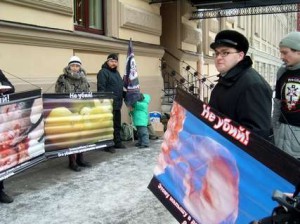 Moscow, March 2, Interfax – Public activists held a picket near a downtown Moscow clinic that practices abortions.
"Recently this clinic held a blasphemous action – Christmas discounts on abortions," the picket organizers told Interfax-Religion on Wednesday.
The action lasted three hours, its participants read the Holy Scripture, demonstrated passers-by documentary photos of children killed in abortions, spread printed materials and collected signatures at the address to the country's leaders demanding to limit the number of abortions in Russia.
Several dozens of people participated in the picket organized by the international anti-abortion movement Family, Love, Motherland. Members of the Movement against murdering children, activists of the Orthodox missionary school at the Synodal Missionary Department, parishioners of St.Thomas Church in Kantemirovskaya were among them.