June 13, 2013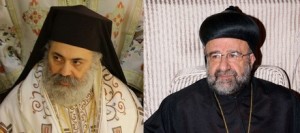 Maronite Patriarch Beshara al-Rahi and Greek Orthodox leader Youhanna al-Yaziji called on Thursday for the release of two bishops kidnapped in a north Syria village.
Al-Rahi and al-Yaziji expressed hope in a joint statement read by bishop Boulos Matar that regional states and the international community would exert efforts to secure the release of all the kidnapped people in the neighboring country Syria.
The statement voiced grief that the conflict in Syria is ongoing, calling on the Lebanese parties and international community to end their involvement in the turmoil in Syria, calling on all to seek peace.
The two bishops, Yohanna Ibrahim and Boulos Yaziji, were kidnapped at the end of April, reportedly near the rebel-held town of Kafr Dael, near Aleppo in northern Syria.
No group has claimed responsibility for their kidnap, but sources close to the Greek Orthodox Church and the Syrian authorities have claimed the kidnappers were "Chechen jihadists".
Al-Rahi and al-Yaziji called on Syrians to launch dialogue among each other as they are obliged to coexist under one nation.
The statement urged the Lebanese to continue aiding the Syrian refugees.
The U.N. says it has registered around 500,000 Syrian refugees in Lebanon, but Lebanese officials say their number has exceeded one million.
Although Lebanon has officially adopted a position of neutrality in Syria's war, its people are sharply divided with Shiite Muslims backing President Bashar Assad's regime and Sunnis the rebellion.
Source: Naharnet