Arkhangelsk, September 16, Interfax – Fleet priest hieromonk Veniamin (Kovtun) attended tests of underwater atomic submarine Alexander Nevsky.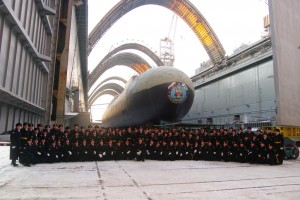 "Prayer services were held at the rocket deck every day. Sailors asked the Lord that He helps the crew to deal with this complicated task. Everything that depended on people were excellently fulfilled, the crew worked perfectly," press service of the Arkhangelsk Diocese quoted Fr. Veniamin as saying.
The priest baptised an officer at the deck of the submarine.
According to him, many people underestimate the importance of forming Christian world outlook among officers, though it is "a very important way of recovering moral and psycological climate."
"It is very important to back up the crew when they go out to the sea as they deal with tasks of state importance. All actions of the crew are perfectly coordinated during ordinary trips. Here we check all working regimens of the submarine, including extreme ones: at the hundred per cent capacity, in full operation. If you're mistaken for two-three degrees, the boat will rush into the bottom. It's real extreme," the priest said.