Source: OrthodoxyToday.org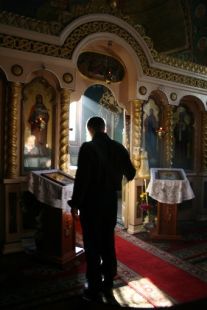 When Matthew Shepard was brutally killed in 1998, people who called themselves Christians stood outside the church during his funeral picketing, proudly holding signs that affirm God's hatred of homosexuals. Should it be surprising that many people with same-sex attraction feel a deep hostility to Christianity, when the kind of "Christianity" they have been exposed to is so full of contempt? Do we Christians really think we can lead these people to Christ by treating them with cruelty, rather than compassion? The true Gospel is one of love, not hate.
On the other end of the spectrum, there are those who advocate the homosexual lifestyle, while calling themselves Christians. The Episcopal Church and other churches have abandoned whatever roots they had in historic Christianity, affirming what the gospel clearly calls sin.
The Orthodox Church, in its holy wisdom, goes to neither extreme. Homosexuality is denounced as sinful, and rightly so. But the Orthodox Church does not condone any sort of violence or judgmentalism towards those who struggle with homosexual temptations. In this modern day mess in which so many churches feel compelled to go one way or the other, Orthodoxy remains an abode of sanity, rooted in ancient Christian tradition.
As someone who has attractions to members of the same sex, and as a baptized and professing Orthodox, I have found myself in a spiritual "tug-of-war." The wisdom of the world seducively holds out its hand, inviting me to dive in and live this lifestyle. My faith and my Church, however, stand firm in the conviction that the homosexual life is not a normal life, nor a healthy life, nor a God-pleasing life.
There really is no pressure, though, neither from the world or from God. Orthodox do not adhere to predestination. I have free will, as do all other sinners. I have the choice to live my way or God's way. My struggle, in many ways, is not much different than that of an alcoholic, or a compulsive gambler, or a married man who is tempted by other women. We either struggle to overcome these sins or we do not. Whichever choice we make, we will answer for it when we stand before the dread judgment seat.
For a while, the choice I made was to just drop the "scruples," and to pursue a life based on my homosexual inclinations. I frequented the bars, made a few actively homosexual friends, and developed an intense hatred of anyone I perceived to be "homophobic."
Depressed and confused, I would leave the bars with a deep feeling of emptiness. I found that I just did not fit in with this crowd of people who were so proud to be gay. Surely, there had to be something more fulfilling than a life based on sexual orientation, rainbow flags, and sex. I found the "gay" community to be immature, shallow, and obsessively concerned with outward appearances and other worldly things. In short, a life that gay books and magazines had told me was so fulfilling was actually rather miserable and depressing, not to mention spiritually, emotionally, and even physically harmful.
At an earlier stage in my life, I believed I could change my orientation, that God would answer my prayers and make me heterosexual. Many "ex-gay" ministries, which are mainly Protestant, claim that alteration therapy can successfully change one's sexual orientation from homosexual to heterosexual. This has become a big business in Protestantism. Jon Paulk, an "ex-homosexual" and staff member of the ministry Exodus International, claimed to be completely healed from his homosexual orientation. He married a former lesbian and had children. Yet a few years ago, Paulk was caught in a gay bar. He later claimed he had merely entered the bar to use the restroom. I have my doubts that alteration therapy really works.
I feel that such an approach is not healthy. In the scriptures, Paul is recorded to have suffered from a "thorn in the flesh." He begged the Lord to take it away, but Christ responded, "My grace is sufficient for thee: for my strength is made perfect in weakness (2 Cor. 12.9)." Paul goes on to say, "Therefore I take pleasure in infirmities, in reproaches, in necessities, in persecutions, in distresses for Christ's sake: for when I am weak, then am I strong (2 Cor. 12.10)." I wonder if that is not the way it should be with my infirmity, my same-sex attractions. Many times have I begged God to change my sexual orientation, to take away this "thorn." For whatever reason, for my salvation, this is a cross I have to bear, and I may very well struggle with this issue the rest of my life.
Instead of focusing on changing sexual orientation, I think the focus for Christians–particularly Orthodox Christians–who struggle with same-sex attraction should be purity. Instead of praying, "Lord, please make me straight," they should be praying, "Lord, have mercy on me, a sinner."
I am thankful to belong to a Church that is not afraid to stand up for biblical morality. I am also thankful that my Church condemns the cruel treatment of homosexuals that unfortunately occurs in the name of "Christianity." My Church treats me as it does all other people, as one made in God's image, one who needs to repent and turn to Christ, and struggle for my salvation.
The author has requested to remain anonymous.
Posted: 1/13/04
Copyright © 2001-2009. Johannes L. Jacobse. For more articles visit www.orthodoxytoday.org.