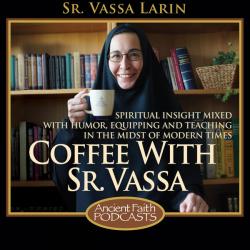 Ancient Faith Radio (AFR) is pleased to announce the addition of video podcasts to our audio programming. AFR started as an audio resource with a single streaming radio station. We then began featuring audio podcasts, as well as a second streaming station for our talk programming. Today we are the leading provider of Orthodox audio podcasts in the world. As of this week, we now also offer video podcasts, recognizing the portability of mobile devices and the demand for video content. We have plans for this area to grow in the same way that our audio podcasts have grown as we develop partnerships with more and more content providers.
The first of our video offerings is "Coffee with Sister Vassa." This is a ten-minute weekly program hosted by Sr. Dr. Vassa Larin, a nun of the Russian Orthodox Church Abroad (ROCOR) and liturgiologist at the University of Vienna in Austria. Presented with a light dose of humor, the program offers engaging reflections on the Orthodox Church calendar of the current week, the lives of the saints, scriptural passages, and Orthodox tradition.
Coming soon is our second video podcast "Be the Bee."A joint production of Ancient Faith Radio and the GOARCH Department of Youth and Young Adult ministries, this brief weekly video podcast will focus on the various ways in which God has infused all of creation with goodness and beauty. The title refers to the metaphor of the bee and the flies that was used by Elder Paisios to describe how Christians should approach life. The host of the program is Steven Christoforou, the GOARCH Youth Protection / Parish Ministries Coordinator.
Both video podcasts can be found on our new video page.
Source: Antiochian Orthodox Christian Archdiocese of North America