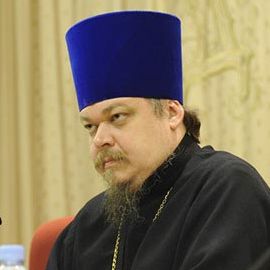 Moscow, December 27, Interfax – The Church believes there can be an exception from the ban for American citizens to adopt Russian children suggested by the "Dima Yakovlev law."
"I would make an exception for children who should get medical treatment inaccessible in Russia. I think this law would be reconsidered more than once even if the President will sign it tomorrow or the day after tomorrow. There, certainly, can and should be exceptions," head of the Synodal Department for Church and Society Relations Archpriest Vsevolod Chaplin said at a press-conference in Moscow.
According to him, there are a lot of people of various ages in Russia who "suffer diseases better treated in foreign clinics than in Russian hospitals."
"Perhaps, an exception should be made for such children. Perhaps, our state could support them and send them to be treated abroad," the priest said.
He said "we shouldn't be beasts and deprive children who cannot be cured by our doctors of their right for life and health."
Evaluating the draft, the church official said there are no perfect laws and "we can evaluate a law only some time after, if it starts working."
He sees several "moral problems" in adopting our children by foreigners. "The most difficult of them is the following: there is an industry in the country that takes children abroad for money. Moreover, there are serious grounds to believe that there is another industry linked to it – the industry of taking the children away from families," Father Vsevolod said.
Source: Interfax-Religon