April 24, 2013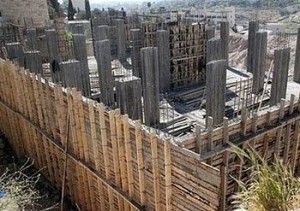 The Orthodox Church of Jerusalem has expressed a serious concern regarding the situation that emerged with the Convent of Sts. Lazarus, Martha and Mary in Bethany. On the piece of land belonging to the Convent, local residents—Arab Muslims—have been constructing a large building (already three stories have been built) since March 2013 in spite of protests from Orthodox Christians, reports Sedmitza.ru.
The Convent possesses all documents on this land including a site plan from the year 1912.
Attempts of the lawyer of the Patriarchate of Jerusalem Samiha Shleipi to urge the Palestinian police to stop the construction work brought no results. The mediation of the embassy of Cyprus did not help either—it intervened in the situation after threats to the nuns began to pour in (5 out of 7 sisters are Cypriots).
According to the Romfea agency, the building is being constructed at a feverish pace and work is continuing 24 hours a day to complete the building and no one has been able to stop it yet.
Source: Pravoslavie.ru