May 22, 2013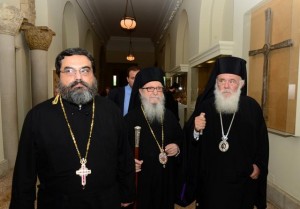 NEW YORK – His Beatitude Archbishop Ieronymos of Athens and All Greece concluded today, Wednesday May 22, his seven-day visit to the Greek Orthodox Archdiocese of America. His Beatitude was invited by Archbishop Demetrios and the Holy Cross Greek Orthodox School of Theology in Boston to receive an Honorary Doctorate Degree in Theology.
This morning, His Beatitude, with Archbishop Demetrios and his entourage visited the Metropolitan Museum of Art. They were received and guided through the tour by Ms. Brandie Ratliff, Research Associate with the Department of Medieval Art and The Cloisters. Ms. Ratliff led the tour through the Mary and Michael Jaharis Galleries of Byzantine Art and answered questions for the Archbishop and the other visitors. The tour continued with Ms. Kiki Karglou to the impressive main gallery of the Museum, the Mary and Michael Jaharis Gallery of Greek and Roman Art. Archbishop Ieronymos, who holds a degree in Archaeology, said, he was very impressed by some of the exhibits , the Museum in general and the Jaharis Galleries in particular.
In the afternoon, Archbishop Demetrios of America accompanied His Beatitude and his entourage to JFK International Airport for their departure to Athens via Zurich, Switzerland.
The Archiepiscopal party, accompanying His Beatitude in America were: His Eminence Metropolitan of Messinia Chrysostomos, His Grace Bishop Gavriel of Diavleia, Rev. Protopresbyter Adamantios Avgoustidis, Rev. Protopresbyter Stefanos Avramidis, Rev. Deacon Epiphanios Arvanitis and Police Lieutenant Mr. Demetrios Karanasos.
Source: GOARCH