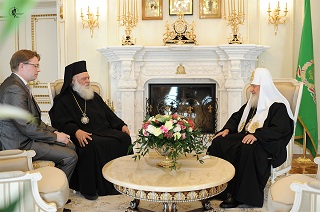 His Beatitude Ieronymos, Archbishop of Athens and All Greece, has sent to His Holiness Patriarch Kirill of Moscow and Russia a letter expressing gratitude for the financial assistance given by the Russian Orthodox Church for the implementation of the Greek Church's charity projects.
'In your person we once again thank the pious clergy and people of your Russian Church for the generous aid given with the readiness that speaks of your great love and shows that spiritual and fraternal bonds have long existed between our Holy Churches', the letter states.
Archbishop Ieronymos informed Patriarch Kirill that the funds raised by the Russian Orthodox Church were divided between 81 metropolises of the Church of Greece and the Archdiocese of Athens in proportion to their sizes. The funds, he said, were used to support programs for free soup-kitchens and charity projects for aid to victims of the economic crisis.
His Beatitude also stressed that the central economic service of the Church of Greece guaranteed that it would give a detailed and transparent account of all the expenditures.
 *
The fund-raising campaign in aid to the people in Greece who were most affected by the economic crisis in Greece was organized in January 2012 in Russian Orthodox churches and monasteries with the blessing of His Holiness Patriarch Kirill of Moscow and All Russia.