July 28, 2013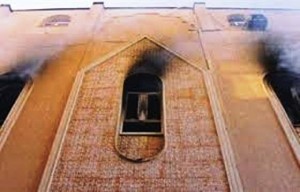 Muslim youth and security forces protected Al-Azraa and Anba Ebram churches from attacks by alleged Morsi supporters in Minya on Saturday, spokesperson of the archbishop of Mawas monastery Amgad Ezzat has told state-owned MENA agency.
"They threw molotov cocktails at Al-Azraa and Anba Ebram churches but were not able to break in as nearby Muslims and Christians were securing the churches," said Ishak Ibrahim, researcher at Egyptian Initiative for Personal Rights (EIPR). He added that the protesters tried to storm in El-Eslah church but were prevented. "However, both El-Eslah church and an annex of the Catholic church were raided before, on 3 July," he said.
Al-Dostour Party member Mohamed Attallah claimed that Muslim Brotherhood protesters "vandalised shops in Palace Square, raided an Al-Dostour party exhibition and beat up Al-Dostour member Mahmoud Mamdouh and stole his phone."
"None of the [assailants] were arrested or charged with anything," said Attallah.
Ibrahim said Minya has witnessed significant tension, adding that a Christian man and child were killed before the mass 30 June protests as a result of continual incitement against Christians.
During the 48-hour ultimatum given by the Minister of Defence Abdul Fatah Al-Sisi to former president Morsi, the latter's supporters attacked many Christian homes and killed the wife of a Christian man, who was accused of discharging a firearm while protecting his home, said Ibrahim.
Ibrahim added that seven Christian families fled Minya out of fear of being attacked, emphasising that "the security forces' presence is not proportional to the size of tensions in the city."
Reports of sectarian strife have been increasing since protests on 30 June, spanning many governorates, such as Luxor, where four Christians were killed; North Sinai, where a Coptic priest was killed and a Christian shop-owner was decapitated; Port Said, where a church was attacked; and Marsa Matruh, where Christian shops were looted.
Both the EIPR and Human Rights Watch have urged investigations into these recent sectarian attacks and have insisted on scrutinising the role of the security forces in the clashes.
Source: Daily News Egypt