When was the last time you began something new? As long ago as college, perhaps, or a new job? When you got married or had a child or moved to a new town? Maybe one of the most significant new beginnings you recall now was your conversion to the Orthodox Faith, or joining a new parish.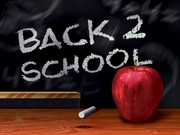 Or it could be the most recent time you started something new was today. Maybe you started a book you'd never read before, or tried a new recipe, or met a new coworker. Newness is everywhere in God's world, if we look for it—echoes and foreshadowings of the new life in Christ that we are promised in baptism.
Each year at the beginning of September we have another chance to experience this newness on the first day of the liturgical year. The long and complex history of the Church's interaction with various states throughout Western civilization has resulted in a specially blessed coincidence for us Orthodox in North America: our church year begins at about the same time as the academic year. At the same time as many members of the Church or their children are preparing to begin a new level in their education, the Church welcomes all of us to a "course of studies." This is why we are called "disciples"—a disciple is a learner, a student. But not one who reads through the Bible in a higgledy-piggledy manner—one who, rather, follows a discipline.
We have such a discipline in the Church's liturgical cycle, a complete and orderly celebration of the history of God's dealings with His people. In fact, unlike in elementary school, high school, or university, we are studying one subject only: God. And there is no graduation until the end of this life—learning is not a preparation for life, it is life. For in our school— the Church in all her aspects, whether liturgical services, Sunday school or Bible study, service to the needy, or fellowship with other members—we not only learn about God, we learn to know Him and follow Him.
Do you remember getting ready for the first day of school when you were a child? The anticipation of reunion with old classmates . . . the last-minute checks to be sure you had every last pencil in your bag, every fold of new clothes (a size too big) in place . . . the butterflies in the stomach?
The butterflies were there because of the newness. Part fear, part curiosity, part a kind of thrill that we were about to take our place with "the big kids"—that we had grown since last year and belonged in the next grade now, even if the new clothes did still hang a little loosely.
What preparations do we make as we embark on this new year in the Church? How about a little "back-to-school shopping"? As children, and older students as well, are caught up in the hustle and bustle of gathering supplies and trying on fashionable new outfits, and working people come back from vacation with perhaps a sigh at returning to the old grind, wouldn't this be a good time to think about acquiring some things to aid you in your spiritual studies?
Have you set aside an icon corner? Do you have a saint's icon for each member of your family? Do you have a copy of the Orthodox Study Bible, The Year of Grace of the Lord by a monk of the Eastern Church, or other spiritual reading? Do you keep a prayer rope at your bedside, or a little notebook for names of people to pray for in your icon corner? Your priest can advise you on many such matters, and help you find out where to get these things.
Who can forget that traditional first essay of the school year—"What I did on my summer vacation"? The new church year is a time for review, too—taking stock, remembering with thankfulness, then preparing for the new routine. Some people may find it useful to make their "New Year's resolutions" now, rather than in January. And this is an excellent time to plan on coming to confession.
One last aspect of going "back to school" is important to remember—the encouragement of "school spirit" in the gathering of community. Many parishes like to hold their Sunday school picnic or other social event to bring everyone together at this time of year. Some who practice general confession may find this a good time for it, or for a Saturday retreat to focus on the challenges to come. Others make a point of acknowledging the return of students to school (and particularly the students and teachers of the parish Sunday school) with a special prayer after Liturgy.
The bell will ring early this September, on Sunday morning, with "Blessed is the Kingdom!" Don't be late!
---
This article appeared initially in The Handmaiden, Vol. I No. 3 (Summer 1996). It was reprinted as chapter 1 of Seasons of Grace: Reflections on the Orthodox Church Year (Conciliar Press, 2002).
Source: Antiochian Orthodox Christian Archdiocese of North America website