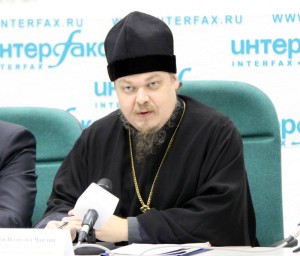 Bishkek, December 11, Interfax – The Moscow Patriarchate insists that believers have a right to influence political processes and the state.
"Believers are citizens of the state and it is illegal to try to prevent them from participating in public processes determining the present and future of the country. It's like separating people from people," Archpriest Vsevolod Chaplin, the head of the Synodal Department for Church and Society Relations, said at the 2nd international St. Antony recitals in Bishkek.
He also believes Russia should develop on the basis of Christian ideals and Christians have a right to live according to their faith and act according to its values and "live their church, personal or family, and public life according to the commandments of the Gospel."
The priest believes Russia and other "Russian world" countries are destined to realize the ideal of Christian statehood that was realized under the rule of the Romanov family.
"No matter how progressive an ideology aimed at depriving people from God is, it will lead to a catastrophe. The twentieth century showed it with relentless clarity. The future will show it, too, if we can't show the world, at least to a small degree, that there is a different path of development, development according to God's truth. It's a path of loyalty to moral values," he said.
Source: Interfax-religion