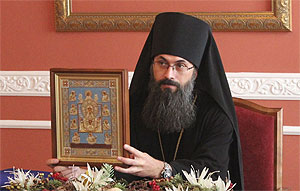 On November 11, 2013, His Grace Bishop Innokenty of Ussuriisk, Vicar of the Vladivostok Diocese of Russia, met with journalists to discuss the forthcoming visit to the Primorsk Metropoliate of the Russian Orthodox Church of the Kursk-Root Icon of the Mother of God "of the Sign" The thirteenth-century icon will arrive on November 14 at Protection Cathedral at 9:00 am. Vladyka Innokenty outlined the schedule of the visit to the cathedral cities of the Primorie region. He talked about the significance of this holy item:
"Though the icon is not large in size, and easily fits onto a church analogion, the degree of influence on human souls can be compared to only a very few icons," noted Bishop Innokenty. "Many historical and contemporary accounts attest to the fact that when a moleben is performed before the holy Kursk-Root Icon of the Mother of God, sorrows and ailments come to an end, people are physically healed. Today this great icon is the spiritual symbol of the Russian Church Abroad, but it often visits Russia and other parts of the world."
The icon is now visiting Orthodox Christians in Japan. A delegation of the Russian Orthodox Church Outside of Russia headed by His Eminence Archbishop Kyrill (Dmitrieff) of San Francisco and Western America, Secretary of the Synod of Bishops of ROCOR, will bring the icon to Vladivostok.
His Grace also told the press about the clergy members of the ROCOR delegation who will bring the icon to Primorie, after which he showed the press a copy of the ancient image.
Source: ROCOR