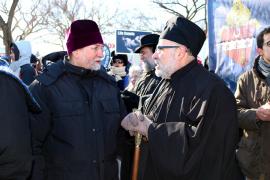 Orthodox Christians from around the U.S. and Canada traveled to Washington D.C. on January 22, 2014 for the 41st March for Life, marking the anniversary of the Supreme Court's 1973 Roe v. Wade decision that legalized abortion in all fifty states. His Grace Bishop John of the Diocese of Worcester and New England represented His Eminence Metropolitan Philip and the Antiochian Archdiocese at the March. After the peaceful march and rally, he wrote:
Only our fingers and toes were chilled; yet our hearts were warmed by the fervor of the crowds, which were not frightened away by the extreme cold and snow. It was an honor to stand and march for life with Orthodox hierarchs including Metropolitan Tikhon of the Orthodox Church in America (OCA), Archbishop Nathaniel, and Bishops Michael, Melchisedek, and Mark, and Bishop Demetrios of the Greek Orthodox Archdiocese. It was also a joy to walk with the banners and students from St. Vladimir's and St. Tikhon's Seminaries, and many Orthodox faithful who chanted hymns to the Theotokos as we marched.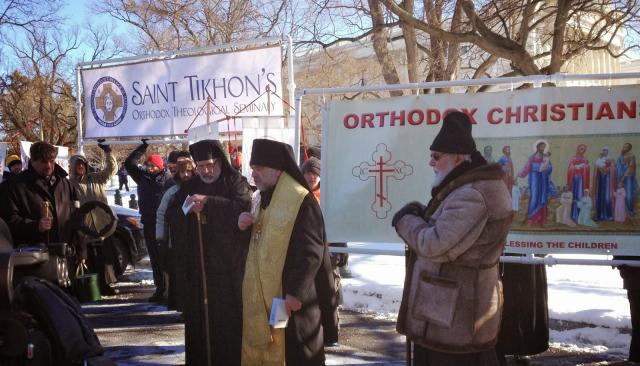 Bishop Demetrios offered the opening prayer at the March, and special greetings and appreciation was expressed for Metropolitan Philip from Roman Catholic Cardinals Donald Whirl and Sean O'Malley, as well as from the bishops of the OCA. The Antiochian Archdiocese was represented well by priests and laity. Upon reaching the steps of the Supreme Court, the Orthodox faithful offered Trisagion Prayers for the many lives lost to abortion.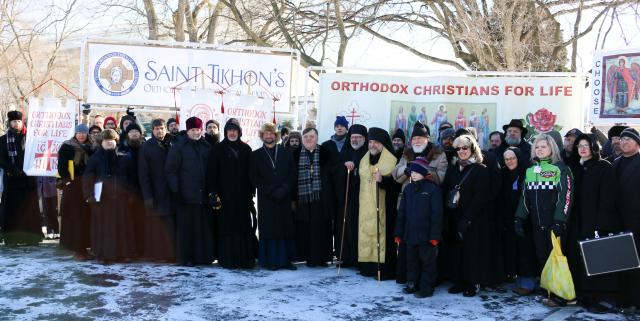 Source: Antiochian Orthodox Christian Archdiocese of North America