April 29, 2013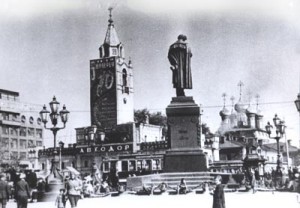 The monument to the poet Alexander Pushkin from Pushkin square in the center of the Russian capital may be moved from its current site, reported to Interfax a source in the Moscow State Duma.
"It has been proposed to move the monument to Pushkin and to build a commemorative Chapel to the Strastnoi (of the Passion) Convent and to the first tsars of the house of Romanov: Michael Feodorovich (reigned from 1613 to 1645) and Alexei Mikhailovich (1645-1676) on its site," said a spokesman of Interfax.
He noted that the monument to A. Pushkin in 1880 was raised on the square at the beginning of the Tverskoy boulevard but in 1950 it was moved to another side of Gorky street (present-day Tverskaya street) and installed on the site of the Convent's demolished belltower.
The spokesman also added that the Commission at the Moscow State Duma had received a proposal to install a commemorative plaque to the human rights lawyer Stanislav Markelov and the journalist Anastasia Baburova on the site of their murder—near house №1 on Prechistenka street.
"Most probably, the Moscow State Duma's Commission for Monumental Art will consider these proposals after the May holidays. It is still difficult to state what kind of a decision will be made on these two proposals, but the commission members are categorical as regards the moving of monuments," said the agency's spokesman.
Orthodox Christians have been holding prayer meetings and Cross processions on the Pushkin square for years calling to restore the Strastnoi Convent. According to them, underground on the site are the remains of ascetic nuns from the Convent, as well as foundations of destroyed monastery buildings. In summer 2012, a commemorative plaque to the Strastnoi Convent was raised on the Pushkin square.
The Convent was founded in the 17th century on the very historical site where the miraculous icon of the Mother of God of the Passion (which was brought to the capital from the Nizhny Novgorod region) had been solemnly met. This icon, famous for its healing of the sick, is thus called because two Angels with instruments of Christ's sufferings (passion)—spears and the Cross—are depicted on it next to the Most Holy Theotokos.
When the Napoleon's army hastily left Moscow, it was in this Convent that the first thanksgiving service to the Savior for miraculous deliverance from the invaders was celebrated. Also, according to tradition, the first Church bell resounded from the belltower of the Strastnoi Convent after the enemy had gone away. The central anti-religious museum was opened on the territory of the Convent in 1929, and the buildings of the Convent were demolished in 1937.
Source: Pravoslavie.ru