January 20, 2012 – His Holiness and Beatitude Iliya II, Catholicos-Patriarch of All Georgia, was given a solemn welcome at Vnukovo airport in Moscow. On his visit to Moscow, the Primate of the Georgian Orthodox Church is accompanied by Metropolitan Theodore of Akhaltsiht and Tao-Klarjeti, vicar of the Catholicos-Patriarch; Metropolitan Gerasim of Zugdidi and Tsaishi, chairman of the Georgian Church's foreign department; Metropolitan Dimitry of Batumi and Lazeti, Protopresbyter George Zviadadze, rector of Tbilisi Theological Academy, Archimandrite Chinsharauli, and other church officials.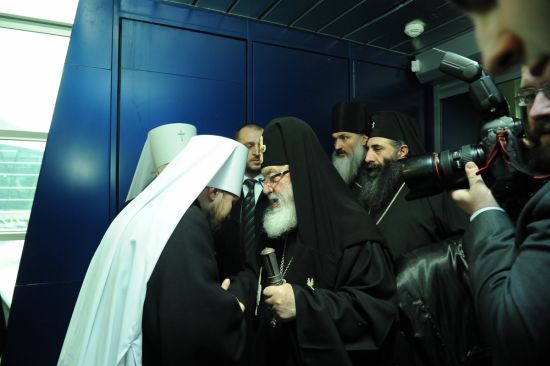 The welcoming party included Metropolitan Krutitsy and Kolomna, Metropolitan Hilarion of Volokolamsk, head of the Department for External Church Relations; Archbishop Arseny of Istra, Archbishop Mark of Yegorjevsk, head of the Office for Foreign Institutions, Archpriest Nikolay Balashov, DECR vice-chairman, Archpriest Igor Yakimchuk, DECR secretary for inter-Orthodox relations, Deacon Fedor Shulga, and representatives of the Moscow clergy.
In the evening, Metropolitan Hilarion entertained the Georgian delegation led by Catholicos-Patriarch Iliya II to dinner.
Present at the dinner were Moscow Patriarchate representatives including Bishop Sergiy of Solnechnogorsk, director of the Moscow Patriarchate's secretariat, Archpriest Nikolay Balashov and Archpriest Igor Yakimchuk.
Source: DECR