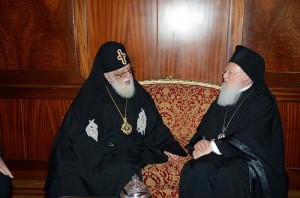 Tbilisi, May 23, Interfax – Constantinople recognizes the jurisdiction of the Georgian Orthodox Church in Abkhazia, Catholicos-Patriarch Ilia II of Georgia said on Thursday.
"We had a meeting with the Ecumenical Patriarch. We considered various issues and accord emerged on everything. I am grateful to His Holiness for this support. He said repeatedly that Constantinople recognized the jurisdiction of the Georgian Orthodox Church in Abkhazia and, with God's help, everything will end peacefully," the Georgian Patriarch said.
Patriarch Ilia II said that it was planned to organize his visit to Abkhazia in the company of Ecumenical Patriarch Bartholomew. The Georgian patriarch will also introduce during his visit to Sukhum his personal representative among clerics, natives of Abkhazia.
"All local Orthodox Churches and the entire world recognize Abkhazia as a part of the Georgian Church, a canonical part. Everyone admits this and so all issues existing in Abkhazia are to be definitely considered by the Georgian Orthodox Church and its Synod. We have agreed that the Georgian Church would do everything so priests came there. I am Metropolitan of Tskhum-Abkhazia and Bichvinta and I have to go there as well to calm down the situation there," Patriarch Ilia II said.
"We have agreed with the Ecumenical patriarch that he would help us with this and everything would be fine. The Russian Church recognized Abkhazia as part of the Georgian Church. The church problems of Abkhazia are the result of political issues. And we have to do everything so that political fights and disagreements do not reflect on church life. On the contrary, Church should do everything so that peace comes to our country," the Georgian Patriarch said.
Georgian Minister for Reintegration, Paata Zakareishvili, commented on the patriarch's statements on Thursday.
"The state should not interfere with the issue of Catholicos-Patriarch of All Georgia's visit to Abkhazia. His Holiness is in Constantinople, where he has met with the Ecumenical Patriarch. Naturally, it would come to Abkhazia and he probably reached an agreement. The visit of the Patriarch to Abkhazia will take place upon a certain agreement. This is not a political structure. They have their own relations. If this happens, I will welcome this and state channels should not be involved to interfere with the church activities," the minister said.
"They probably want to implement this with the Russian Church's accord because information emerged that the Russian Church is also involved in this process, this is also to happen in Abkhazia with the permission of the de-facto authorities," Zakareishvili said.
Source: Interfax-Religion