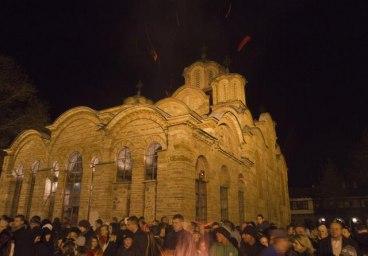 January 11, 2013
PRIŠTINA — A Priština court judge has discontinued the proceedings against the ten Serbs arrested during an Orthodox Christmas celebration in Gračanica.
Dejan Vasić, the lawyer representing the men arrested after services at the Serb Orthodox monastery, made the announcement on Friday.
Vasić told Tanjug that he had still not received an official explanation for the ruling because it was awaiting its translation into Serbian.
Vasić said he assumed that the decision had been based on the facts indicating that the ten young men from the northern Kosovo town of Leposavić had not behaved in a manner "detrimental to society".
The ten Serbs were arrested on Christmas Day "for disturbing the peace and failure to comply with orders of the Kosovo police", at the time of visit to Kosovo of Director of the Government Office for Kosovo and Metohija Aleksandar Vulin.
They were released from police custody in Priština the next day, January 8.
The Serbs told the media that while in custody, they had been subjected to physical and psychological abuse – allegations which the Kosovo police, KPS, rejected, announcing at the same time an investigation.
Darko Vlasaj and Darko Trbuljevac, who say they were beaten in prison, meanwhile sought medical help in a hospital in the northern part of Kosovska Mitrovica and were hospitalized at the Military Medical Academy in Belgrade on Thursday.
Source: B92