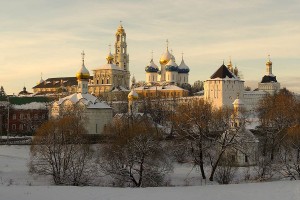 On 16 February 2013, the Chinese students of the Moscow State University, the Pushkin State Russian Language Institute, and of the People's Friendship University of Russia went on the educational trip "Meeting with Orthodoxy" to the Laura of the Holy Trinity and St Sergius.
The trip was organized by the Chinese Patriarchal Metochion in Moscow with the participation of the Orthodox Missionary School of the Synodal Missionary Department, and the Orthodox Missionary Society of St Serapion of Kozheozero.
The students were offered an informative excursion and visited the Moscow Theological Academy and Seminary, including the Bible Studies Faculty Museum, the Far East Centre, the Church of the Intersession of the Mother of God, and the Church and Archeological Cabinet.
The youth were shown a film about the Academy and the presentation "On the Orthodox Faith and Life in the Church" in the Chinese language, and met with the seminarists.
Source: DECR