Modern Christians are "called" to suffer and even die for the faith in a new era of 'martyrdom', says Archbishop of Canterbury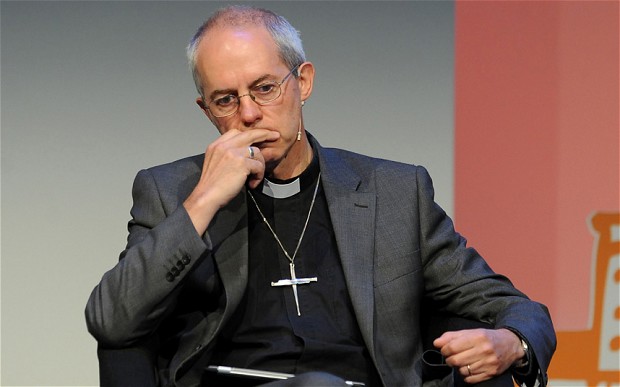 Christians are facing a new age of "martyrdom" across much of the world, the Archbishop of Canterbury has said.
Speaking in Istanbul, Turkey, the Most Rev Justin Welby singled out the persecution of believers across the Middle East and said Christians are still "called" to suffer and even die for the faith in the 21st Century.
But he insisted that religion is often just a "pretext" for violence and not the real cause.
He made his remarks at the end of a two-day visit with the Ecumenical Patriarch of Constantinople, Bartholemew I, the most senior cleric in the eastern Orthodox church.
His comments in a city which has in the past been the capital of both the Christian and Muslim worlds underline the significance he attaches to the threat to Christians in the region, an issue the Prince of Wales also singled out last month.
Referring to the original Greek meaning of the word martyr, as a "witness", he said: "Your history is more and more important in the increasing confrontations of the world in which religion is used as a pretext for violence that in reality comes from greed and the pride of human beings.
"You have demonstrated over the centuries the martyrdom to which we are called in scripture, the call to witness in word and life, a call more important than life itself.
"The cost of that martyrdom is seen in so many places today.
"Closest to here we remember and seek the mercy of Christ and intercession of the Blessed Mother on Syria." He then singled out the orthodox leaders in Aleppo and Antioch.
The Archbishop also spoke about the effects of the banking crisis and the troubles of the eurozone, which he said had spread "terrible suffering" in Europe.
"During the last years we have seen the world changing in a diversity of ways," he said.
"We have had an economic crisis through a banking system which had lost its way, seeking its own good at the expense of nations and their peoples.
"There is conflict in many regions of the world, acute poverty, unemployment and an influx of oppressed people driven away from their own countries and seeking refuge elsewhere.
"In Southern Europe terrible suffering has seized the people, most especially the poor for whom we weep and cry to God."
And in a warning to politicians, he added: "Economic crises tempt governments and people to look to the short term and forget the needs of the generation to come."
Source: VirtueOnline