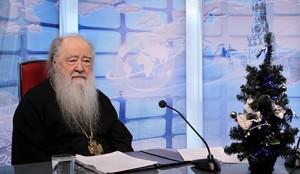 January 6, 2013
In the run-up to the Feast of the Nativity of Christ celebrated by the Russian Orthodox Church and Orthodox Churches throughout the world on January 7, Metropolitan Juvenaly of Krutitsy and Kolomna has extended his warmest Christmas greetings to Voice of Russia listeners.
"The Feast of the Nativity of Christ celebrates hope for salvation, for forgiveness of sins, for the triumph of peace and goodwill. With a feeling of deep spiritual joy I wish you all to consolidate your faith and rejoice in doing good in the name of Christ, Who is always with us. We know from the Holy Scripture that only God is unchangeable. As changes have become an integral part of our daily lives, a serious-minded clear-headed individual, particularly a believer, should ponder on them on a daily basis. Apostolic teachings tell us to proceed with caution, not as fools but as wise, and value time because the days are evil. The Apostles teach us not to waste time but grow spiritually, no matter what the circumstances are or could be. It's this that matters, while changes come and go, as before. As long as we see the meaning of life, we'll never veer off course. What fills our lives with meaning is staying with Christ in His Holy Church."
"Despite a series of tragic events in Russia that led to a mass departure from faith in the 20th century, these days we're witnessing a spiritual revival as people are rediscovering God and are returning to faith. The best we can do today to redeem the sad legacy of the past is to preserve the Love of our Lord Jesus Christ in our hearts and live a life of good deeds to the glory of God," Metropolitan Juvenaly said in conclusion.
Source: Voice of Russia