April 29, 2013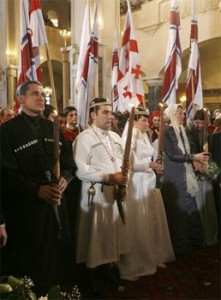 Recent months have seen more and more calls for Church marriage to be given legal status in Georgia.
"As a clergyman I would welcome it if Church marriage were given legal status in Georgia. There are regulations about the legal status of Church marriage in the legislation of many European countries, for example, in Greece. Thus, an official decision to provide Church marriage with a legal status will be a joyful event for myself as well as for the whole Orthodox flock," said Metropolitan Seraphim (Jojua) of Borjomi and Bakuriani in his interview with the Khronika newspaper.
The head of the legal committee of the Georgian parliament Vakhtang Hmaladze explained in the interview with the same newspaper the government position on the issue, reports Blagovest.info.
"Without legal status the duties that spouses take upon themselves are simply all invalid. Today, they only have legal status on the basis of civil marriage.
However, many married Georgian couples live together after only a Church wedding and are not married legally. This is nothing to do with ignorance of civil marriage or a neglect of it; the reason is that Church marriage is a deeply rooted tradition in Georgia. From a legal point of view it is irrelevant if the question of legitimizing marriage is based on Church marriage or civil marriage. The main thing is that marriage should be documented. And then Church marriage can be granted full legal status," said Vahtang Hmaladze.
The withdrawal of a Church wedding's legal status is something that occurred under the Communist regime, but with the return of Church life in Georgia, many feel the time has come to return that status.
Source: Pravoslavie.ru