Source: Holy Apostles Greek Orthodox Chruch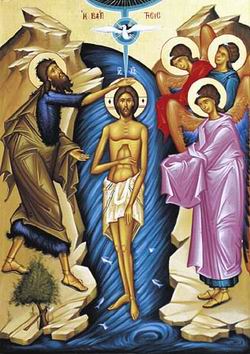 My son Nicholas was walking to class at the UW campus with his old friend Peter Themelis – Nicholas wearing his blue jeans and back-pack, and Peter, in his ROTC uniform. Nicholas wanted to take a short cut through the quad and Peter quickly responded "Sorry, can't do that… I'm in uniform." Nicholas asked, "What's wearing a military uniform have to do with getting to class just a little faster?"
Peter said, "When I wear my uniform, I have to be an example to everyone around me I can't take short cuts or j-walk. I can't talk on my iphone or text when I'm walking and in uniform. I have to walk on the side-walk, and never on the grass. I have to salute those higher in command as well as the American flag. When I'm in uniform, I represent the United States of America. It's all about integrity, honor, and respect."
When Peter wears his uniform, he is called to exemplify good behavior and be a model citizen. He is intentional in making wise choices. There is little room for debate on the quality of his behavior when wearing his uniform. The question is for him and for others in the military, are you living the same life of integrity when you are not wearing the uniform?
What a great example to all of us! Can you imagine living with that kind of honor whether you're wearing a uniform or not? Each of us as Orthodox Christian has been given the same call since our baptism. At baptism, when we received our baptismal garment we were invited to "PUT ON CHRIST", to be "CLOTHED IN CHRIST", to walk differently as those united with our Lord and Savior.
Just like Peter wearing his uniform and being mindful of the choices he makes, we are invited to be mindful of the life 'in' Christ we live knowing we have been clothed and have put on Jesus at our baptism. We need to continually invite the Holy Spirit to be present in to our lives so that our response to the world may be a reflection of Christ within us.
In January, we celebrate the Lord's Baptism which reminds us of our calling to become Christ-like and to become clothed in the garment of salvation and live a life worthy of the Gospel. Just as the military code of conduct demands that soldiers do everything in their power to follow and honor the established protocol and principals, we are also invited by our Lord to be instruments of love, peace and compassion!
He invites us to be His hands and feet – to serve others with a gracious and humble heart. We are called to walk differently as Christians – to change ourselves from the inside out and be an example of love to others. No matter if we are at a football game and others are behaving rudely, whether we get cut off on the freeway, whether we are at the gym, or office, or out on the town with friends or family, we are to be consistent in our character as Orthodox Christians.
So, if someone was watching you or me, what would they be seeing in our daily response to our life's journey? My hope and prayer is that they would be seeing a prayerful person doing their best to walk in the love of Christ, being clothed in Christ seeking the good things for others and living according to our Christian belief not only in words but by our actions. Being clothed in Christ means having a desire to be in relationship with Jesus in prayer, mindfully inviting Christ in to the deepest part of our hearts to transform us and make us anew.
As St. Paul wrote to his beloved son Timothy, being clothed in Christ means to "aim at righteousness, godliness, faith, love, steadfastness, gentleness. Fight the good fight of the faith; take hold of the eternal life to which you were called when you made the good confession in the presence of many witnesses." 1 Timothy 6:11
St. John of Kronstadt says: "In all your works, either at home or at the place of your service, do not forget that all your strength, your light and your success are in Christ and His Cross; therefore, do not fail to call upon the Lord before beginning any work, saying: Jesus, help me! Jesus, enlighten me! Thus your heart will be supported and warmed by lively faith and hope in Christ, for His is the power and glory unto ages of ages.
Being clothed in Christ means to become like the wise men offering three gifts to the Christ Child. Let's offer Him as gold – the purity of our heart and our intentions to avoid every evil thought and weakness. Instead of frankincense lets offer Him a soul that burns with love for God and all humanity. And instead of myrrh let's present Him with a lifestyle that is worthy of Christian Orthodox living; a lifestyle that is replete with His love and our acceptance of this gift through our deeds, prayers and repentance.
As we begin this New Year with a list of resolutions and hopes for a new start, let us accept the invitation to live differently in Christ – fully clothed with the Holy Spirit recognizing that the source of our strength is Christ. If we are mindful of our "code of conduct" surely, we will invite Christ to help us and enlighten us as we serve and as we love others.
So let your light shine before men that they may see your good works and glorify your Father Who is in heaven.