August 12, 2013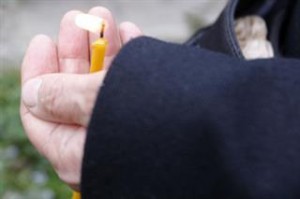 SISAK – Commemoration of Serbs murdered in Operation Storm carried out by Croatian armed forces was held for the first time after 18 years in Zirovac.
In Operation Storm, Croatian forces attacked former Republika Srpska Krajina (RSK) which was a territory under UN protection, and they murdered 2,000 Serbs and banished over 220,000 Serbs and Zirovac, is on the pathway of this major Serb exodus from Croatia to Republika Srpska in Bosnia-Herzegovina.
The Serb population in the area of Kordun and Banija in Croatia fled by tractors and cars along the main roads, under the protection of Serbian forces, via Zirovac and Dvor to the bridge on the Una River, to seek salvation in Republika Srpska.
Around 700 Serbs were murdered, of these 64 civilians and 9 disabled individuals from the Home for the elderly in Petrinja which the Serbian forces transported to Dvor, as was later confirmed by Danish UNPROFOR members.
The commemoration service in Zirovac began on Sunday with five hours of delay due to threats of Croatian veteran associations and the Croatian police released that the service was peaceful and there were no incidents.
The commemoration service was held and Serb victims were honoured by some twenty members of the Novi Sad-based association of veterans from armed conflicts in former Yugoslavia.
The group of veterans was headed by president of the association and reconnaissance commander of the 21st Kordun Corps of the RSK Army Zeljko Vukelic.
The service was not attended by representatives of the Serb National Council, Independent Democratic Serb Party from Dvor who distanced themselves from the event earlier, Hina reported.
Croatian media reported that the previously announced unveiling of the monument honouring Serb victims of Operation Storm.
Vukelic told Croatian media on Saturday that the Novi Sad Veterans' Association intends to build a monument honouring the murdered and the missing in Operation Storm from Zirovac, and added that the construction request and monument project documentation have been filed but the local government has not issued a response yet.
The associations of Croatian veterans are fiercely opposing the monument construction in honour of Serb victims, and they announced that they would oppose this move by all available means.
Source: B92