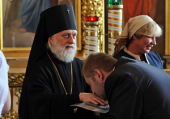 PRAVMIR. June 28, 2012. Today St. Tikhon's Orthodox University held its commencement ceremony in the University's Church of St. Nicholas in Kuznetskaya Sloboda (Moscow), Patriarchia.ru reports.
The Divine Liturgy was celebrated by Archbishop Evgeny of Vereya, Chairman of the Education Committee of the Russian Orthodox Church, assisted by Archpriest Vladimir Vorobiev, Rector of the church and the University, and faculty and graduates of the University in priestly orders.
During the divine service several students from the Theological Faculty were tonsured Readers.
Following the completion of the Liturgy, Archbishop Evgeny congratulated the graduates, noting: "Today the Church faces the task of reviving various types of ecclesiastical service. Apart from the Education Committee, Synodal departments responsible for specific areas of ecclesiastical activity have been created. The question of preparing specialists is particularly acute; without them, such revival is impossible. Thanks in particular to St. Tikhon's University, we have the unique opportunity to prepare specialists in various fields of activity."
The conferring of diplomas then took place. Certificates of graduation were given to 193 students from the following faculties: Theology, History, Education, and Church Singing. The students from the other faculties still need to defend their dissertations. Altogether, 300 students will receive degrees this academic year.