April 22, 2013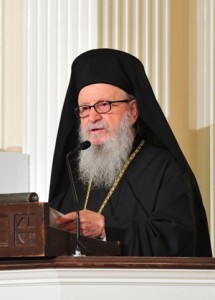 The Holy Eparchial Synod of the Greek Orthodox Archdiocese of America convened for its regular scheduled spring meeting in the Synodal Chamber at the Archdiocese headquarters April 16 and 17. His Eminence Archbishop Demetrios presided at the meeting, with the full participation of all the members of the Synod.
During the meeting, the Synod deliberated on matters relating to the life and the work of the Church including the following:
1) Administrative matters: Administrative matters relating to the parishes and monasteries of the Holy Archdiocese were discussed. Among the matters discussed was the progress of the work of the special Committee of the Archdiocese on the rebuilding of Saint Nicholas Church at Ground Zero. The work of the Committee continues and the architectural firm will soon be selected. The new St. Nicholas Church will function as a national shrine, besides serving as a parish church.
2) Clergy Matters: Matters relating to the pastoral work of the Clergy were discussed, as well as cases of disciplinary nature and matters relating to pastoral care for clergy and their families.
3) Pastoral Matters: The Synod continued the discussion on the Chaplaincy Program which had been approved at its previous meeting. Those interested in the program can contact the Office of the Holy Eparchial Synod for further information.
4) Social Issues: The recent tragic events of the bombings during the Boston Marathon were discussed and a special statement was issued (http://www.goarch.org/news/bostonmarathon-04162013)
Furthermore, His Eminence Archbishop Demetrios, informed the members of the Synod of his participation in the Special 15-member President's Advisory Council on Faith-based and Neighborhood Partnerships to which he had been appointed by the President of the United States, to study and make recommendations for the eradication of the contemporary forms of slavery at the work place and the exploitation of children and adults.
In addition, the Synod discussed the continuing economic crisis in Greece and especially the most recent economic crisis in Cyprus. The Archbishop mentioned that he had convened a meeting of national leaders and representatives of national organizations in support of the suffering and struggling people of Cyprus. The Synod unanimously decided to ask the pious faithful of the Church and the parishes of the Archdiocese to contribute from the abundance of their love and assist our brothers and sisters in Cyprus through the Greek Orthodox Archdiocese of America and in concert with the Holy Archdiocese of Cyprus.
The two day meeting of the Synod concluded with prayer on Wednesday evening April 17th.
Source: Goarch.org