We were afraid too. There was a time when we were indignant over things which seemed "absurd", "ignorant" or "outdated" in the life of the Orthodox Church. We (or, perhaps, most of us who were born in atheist families and in atheist times) looked at orthodox temples from the outside thinking that we had outstripped them and that we knew more than the "grandmothers" did. We were afraid that the Orthodoxy with its "dogmata and canons" would deprive us of our freedom. We were afraid of getting into a caserne and of being torn out of the modern world and thrown into the "darkness of the Middle Ages". We were afraid that as soon as we let an Orthodox sermon reach our souls, it would drive all the joys of life out of them.
Now we are afraid too. But of other things. We are afraid of our former sultriness overtaking us again. What if some twist happens in our souls, in our lives – and we become slaves again.
Indeed, a slave in not only someone literally put into irons. The strongest irons are those we do not see. The most terrible bounds are those that are inside us. Contact lenses are hardest to find in one's own eye. So as long as we were in the world of impiety we did not even know that, right from the cradle, we had "contact lenses" implanted in our eyes (or, to be correct, in our hearts and minds) and substantially distorting the perception of the world's colors. Those lenses had been showing emptiness where there was something important as it turned out later. Sometimes they miniaturized really important things, but because of them something really miniature inflated so as to cover the sky.
Ideology and advertising (which dictates us what we must like, what must become of us and how we must measure our success in life) were carefully robbing us of our freedom (to be correct, they did not even let it emerge). It was decided for us that the "young generation" must choose only "Pepsi-Cola". But all of a sudden we discovered that the real choice is not between Pepsi and kvas or between one make of a TV set and another. It is a choice between sense and nonsense.
If my life is just an accumulation of objects, if my mind is immersed in shopping catalogues or TV gossip, then I am the same kind of disposable item as "Goods and Prices" magazine. So a human being is just a "dead person on vacation". I did not exist before my birth. And I will soon cease to exist – this time forever. Non-existence has let me out for a stay and will erase me once again. The world will not even notice the disappearance of yet another "consumer", "buyer" and "TV viewer". So it is nonsense. So it is worthwhile to pose one final question to yourself: Why didn't you die yesterday? Why are you still alive? What is your reason for living?
Sense is given to life only by something that is above life itself. One can live only for the sake of something that is not frightening to die for.
We are told over and over again: "you deserve it". What is "it"?! What if this "it" is everything you "deserve"? If the measure of your life, of its merits and failures is just a commodity, then it turns out that a human being "deserves" being just a puppet in the hands of advertising. A clean, delicately scented, well-groomed – but a puppet…
That is why our entry into the Church became a step into another dimension. It gave us a chance to look at ourselves through different, ad-free eyes. It is obvious that the eyes of those depicted on Andrey Rublev's icons can see much more than the eyes of "Dear viewers". Do you want to stay the same forever? Don't you want to move away from stereotypes and change yourself?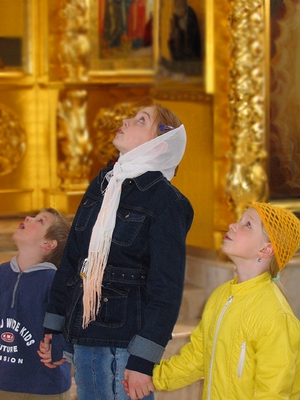 This is the most complex thing that can happen in life. Wise men of the previous centuries used to say that a silly man aims at changing things that are beyond him whilst a clever man aims at changing things that are within him. Am I free from myself? In my life I had instances and states when I could hardly be taken for a human being. The Church has given us an opportunity to repent, i.e. to disassociate ourselves from those moments. A young man inserting a needle into his vein – is he free at that moment? Or is he under some dictate or bent which he cannot overcome? He can ruin his life for just one minute of "getting high". Is it freedom or slavery? By stepping into the Church we have simply chosen the object of serving. Will we be slaves of a minute or of the Eternity?. Will we serve something that is above us or something which is below, somewhere on the level of beasts. Will we rejoice at something which is the most humane and superior in us (soul, conscience) or look for pleasures in something which is the least humane in us.
As for the living in the Church – it is hard to live in it indeed. To grow in your soul is as hard as to grow in sports, science or music. But such growth brings about the joy of changing. We could say that it is the joy of contact with God but we are afraid of falling into obscurity. Still we want you to believe us: not one of could remain in the Church with all its fasting and long services if it didn't, at least sometimes, have such joy that makes all the joys of partying seem just tasteless when compared to it.
Indeed, the Church has demanded refusal or self-restriction from us. But by taking vodka or drugs away from us it has given us a chance to gain our inherent freedom, to get to know ourselves, God and… The Orthodox Church has also given us a chance to stop being foreigners in our own country. Konstantin Kinchev (a Russian rock star) has expressed our experiences in one phrase: "I walk on my land towards the sky I live by". Russia has ceased to be "this country" to us. It has become "our country". We have come to understand its faith, its pain, its fate. Orthodoxy has given us the Sky and returned our Land to us.
If an interest towards religion has sprung up in your life (most probably, you – just like we once did – take interest in horoscopes, astrology, "unknown phenomena", "healers", magic, yoga or voodoo cultures), show your independence at last. Instead of worshiping some Power or nameless "energies" that over-saturate even the present-day cartoon films, do take interest in the Orthodoxy.
There were times when we thought that "all religions were the same and that it was not important which path you take to reach God". But too many of us were wounded in the spiritual war. Too many of us fell into the abysses the very existence of which we had formerly denied with vehemence ("those Orthodox fanatics blame everyone and ban everything but we will not allow to put blinders on our eyes and we will go our own way!"). That is why the experience of not only our joys but also of our former follies prompts us to tell you: do not repeat our mistakes!
We will not summon anyone. The Church is not a parade-ground where well-disposed ranks of "young fighters" march out towards misty ideals. "Disbanded generation – in loneliness we drag on to the Truth". But we can witness Orthodoxy as the space of life. Here you can be a Man, here you can gain the reason for living. Here you can think and love.
Still, frankly speaking, it was hard for us to be loners all the time. It was hard to tolerate the bewilderment and sneers of our unbelieving mates and peremptory shouts of "believing" old women. It was hard for us to conceal our faith and keep our godsends to ourselves. It became hard for us to be Christians only in a church. That is why we decided to meet with each other. We decided to demonstrate to everyone that the Church does not consist entirely of old women but of us as well. We decided to become not only Orthodox, but young Orthodox. We do not know whether we will succeed in it or not. But we are ready for trial and error, we will try to endure the errors of ours and of our friends.
We are not a sect. We are only the people who know that "under the blue sky is a golden city". We know that these words of a poem are not about some made-up dream, but about a Heavenly City, the Heavenly Jerusalem of which the Apocalypse says (its author is Apostle John, the one symbolized on Orthodox icons as a heavenly golden eagle whose unforgettable gaze is so transparent). So we are about to start on a trip to this City.
Are you going with us?
Translated by G.Vasiliev