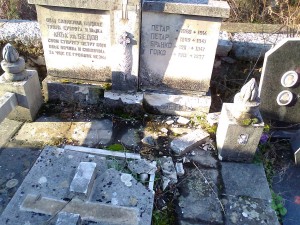 January 4, 2013
KNIN — The police in Šibenik and Knin, Croatia, on Friday announced that they had discovered who desecrated an Orthodox Serb cemetery in Knin.
The perpetrators were "one minor and three children", the police announced. According to the same statement, there was "no particular reason" that motivated them to commit the crime.
All four come from the area of Knin, it was also said.
According to the police, they are suspected of "disturbing the peace of the deceased", with the minor facing criminal charges, while "a special report will be sent about the three children".
It was reported on Thursday that that unidentified vandals had desecrated the cemetary.
The Serbian Orthodox Church (SPC) Eparchy of Dalmatia said in a statement on its website that the cemetery was desecrated on Wednesday afternoon.
Many tombstones and crosses were damaged, while vases were broken and flowers were scattered around the cemetery near the St. George's Temple.
"The perpetrators did not hesitate to commit such misdeed in broad daylight. The temple and the cemetery are often, or better yet permanently, subjected to vandalism and we wonder how long this will take," the Eparchy of Dalmatia stressed.
According to previous reports, "the police came to the scene and found four men at the cemetery who denied any involvement".
The St. George's Temple and the cemetery in Knin are often targeted by hooligans.
The Eparchy stressed in the release that it hoped that the perpetrators would be found and punished.
Source: B92