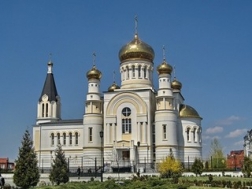 27 December 2012 – 6:33pm
On Thursday the Holy Synod of the Russian Orthodox Church decided to create a new diocese with the center in Makhachkala.
This proposal was made by the Archbishop Zosima of Vladikavkaz and Makhachkala and supported by Patriarch Kirill and the members of the Synod.
In his report Archbishop Zosima expressed his opinion on the desirability of a new diocese in Dagestan for more active care of the Orthodox residents of the North Caucasus.
The Holy Synod decided to form a separate Makhachkala diocese of Dagestan, Ingushetia and Chechnya (previously they belonged to the Vladikavkaz Diocese).
From now on, the ruling bishop of the Vladikavkaz Diocese will have the title of "Archbishop of Vladikavkaz and Alania"  The full name of the Archbishop of the Makhachkala Diocese will be "Archbishop of Makhachkala and Grozny."
Abbot Varlaam *Ponomaryov" from the Transfiguration Monastery in Murom, of the Vladimir Diocese was elected the head of the new diocese.
Source: Vestnik Kavkaza