DAMASCUS — In the Old City district of Damascus, the Greek Orthodox Church of Syria held a funeral on Monday for Ignatius IV Hazim, patriarch of Antioch and All the East.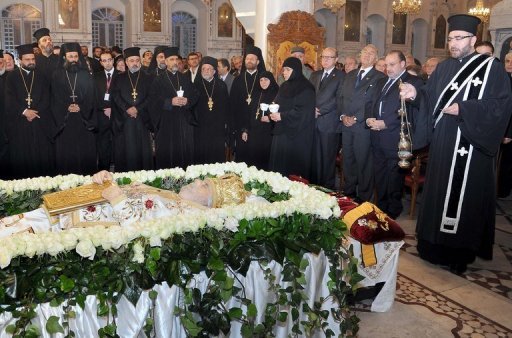 The ceremony was attended by a large number of religious leaders of several faiths, including Catholic Patriarch Gregory III Laham, as well as government officials.
Hazim was 92 when he died in Beirut on Wednesday following a stroke. His body was transferred to Damascus on Sunday.
On Sunday and Monday morning, Christian schoolchildren paid their respects at Saint Mary's Cathedral, where the funeral was held.
At the end of the funeral ceremony, religious dignitaries accompanied by young scouts carried Hazim's coffin to the Cave of the Patriarchs, which is situated in the cathedral. The patriarch was buried there.
Syria's parliament speaker Jihad Lahham attended the ceremony alongside several ministers.
In a statement to Syrian state television, Information Minister Omran Zohbi paid homage to the patriarch, describing him as a man of importance to Syria and the world. "His death is a loss for humanity," he said.
Born in 1920 in Mharde, near the central Syrian province of Hama, Hazim studied philosophy at the American University of Beirut, Lebanon.
He then travelled to France in 1949, where he studied liturgy.
On returning to Lebanon, he founded the University of Balamand in the north of the Mediterranean country.
He was consecrated as a bishop in 1962, and chosen to become Antioch's 157th patriarch on July 2, 1979.
In March 2012, a year on from the outbreak of a popular revolt against President Bashar al-Assad, Hazim was quoted by pro-regime Syrian daily Al-Watan as warning against any foreign intervention in Syria, saying it would be bad for "both Christians and Muslims."
The Greek Orthodox Patriarchate of Antioch and All the East is one of 14 autocephalous churches under the Orthodox communion. It counts around a million members, the majority of them Christians in Syria.
Source: AFP