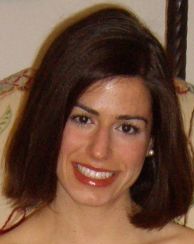 While looking to publish his new book, under the working title Coffee Hour Courting, Thomas Ruthford took some time to chat with me about dating and Orthodoxy.
Emily: What makes dating in Orthodoxy different?
Thomas: You know you want to live in the worship and prayers in every day and every week. It's difficult, and even harder to explain that to someone who's not Orthodox.
E: I think we're also restricted in our dating pool because of our faith.
T: I think we're in a reserved group of people. It's not something one casually slides into. It's easy for someone to say, "I'm a Christian" or "I accept Jesus Christ as my Savior." When they say things like that, people are really looking for a stamp of approval for things that they already do. To willingly become Orthodox is not something that others take lightly. It does focus what you need to do.
E: So, you obviously survived the dating pool, as you're now married to Miri. When did you know you would marry her?
T: I know on the first date—I knew she was wifely material. I was 27, I had been Orthodox for 5 or 6 years, and I just knew what I wanted at that point. She accepted me as I was, and didn't put any pressure on me. On our second date, I said, "Miri, you make everything brighter—you're like color safe bleach"—it was a stupid comment, one of those brain-to-mouth-with-no-brake-in-between comments, but I felt good enough to say that with her.
E: Looking back on being single from the married perspective, is there anything you would've changed?
T: Well, there's a line you cross when you go from being single to being married, and you can't really go back across it that way once you're married. That's why I wrote my book in the first year we were married, while I could still remember it [being single]. My one regret? Not spending enough time with the guys, going to parks and clubs and going on bike rides, things like that. You know, spending too much time w/ girls who were mildly interesting because I thought didn't have any other chances. In retrospect, should've said hi and moved on instead of trying to continue things on.
E: Do you think your relationships with friends have changed since you've been married?
T: I've moved twice since I've been married, so I don't get to keep in touch with people I knew back when I was dating, which is sad. The first year I was dating Miri, I became friends with quite a few of Miri's women friends and got to talk with them about things I hadn't talked about with girls before. Being married definitely makes it interesting to have talks with other women. I haven't been able to find full time work since I've been married, so I've got lots of time, but we don't have kids yet either. Being in a relationship hasn't been a problem for getting to see my friends.
E: Do you think that your marriage differs from marriages of non-Orthodox friends?
T: I don't think it [Orthodox vs. non Orthodox marriage] matters that much. You're just trying to get along, poking fun at your wife, she's poking fun at you.
E: What about from a spiritual point of view?
T: Well, in Orthodoxy, the wedding and your life together are an act of worship. Having that common understanding w/ partner changes the center of your life: as your life goes on and you have disappointments and changes, the purpose of your marriage life does not change. A lot of couples look for some kind of affirmation or commitment that they want from the other person, and then they have to reinvent it when it wears off. Having a spiritual marriage helps the grounding to remain steady. You still have to check in and take care of your spouse, not neglect their needs…It just makes it easier when you have a centering point.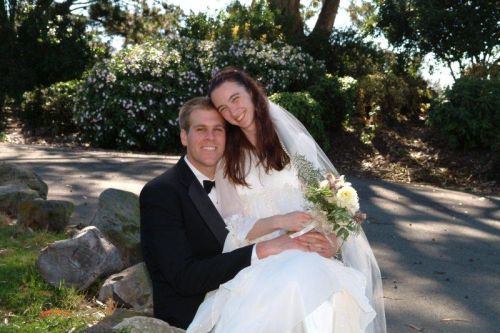 E: Your posts are pretty candid. How does Miri feel about you posting your personal life on the web?
T: Well, I run all the posts past Miri before I put them up. Sometimes I get one of those "I cannot believe you put that word in print" comments, and then I have to go back and edit it. For a humor writer, there's a line between edgy and funny–you've got to walk it carefully, and keep it spiritually relevant.
E: What inspired you to put that information up anyway?
T: What inspired me? Well, it's a struggle that I think is very funny for most people, and I don't think that the vein of finding a partner for [Orthodox] Christians has really been explored yet. My intent is to be honest about those struggles. Most of the material out there is spiritual and conservative, and is meant to get people centered on the meaning of marriage and away from the secular world, but at the same time, that part has been well written and already done, so I felt like I couldn't really add anything to it. I wanted to focus on the sillier, the lighter parts of marriage, and to provide practical advice on trying to find someone at coffee hour or at a youth conference. It wasn't something I thought had ever been written about in a relevant manner. The other thing that made me want to write [my book] is that those other books are very important and very good, but they feel like, "let's have some quality time with Pastor Johnson." They feel like you're being lectured to, telling you what's appropriate and what's not. To me, that's not that engaging. I feel like you need to speak with audience directly from the point of view of someone who's been through the frustrations. Most books about marriage are trying to get the reader to follow the doctrine, whereas I assume that the reader already does that. So I come more from, "let's have fun, let's talk about how this is frustrating," so you can know that you're not alone in those struggles.
E: Ok, so it's easier to follow the doctrine if you're both Orthodox. But, given our limited pool, how do you feel about interfaith dating?

T: Well, some people participate in "missionary dating"—where you attempt to bring your partner to Christ through the relationship, but that's a pretty difficult way of doing that. Eventually, most of those people reach the point of despair where they're begging their priest to find the "convert your partner" spell. Generally people are pretty set in their ways and beliefs, if you challenge them too much you'll just create resistance. After I became Orthodox, no non-Orthodox girl would date me. I was reading Schmemann's books in bars, and if a girl asked me what I was reading I would start talking about our salvation…I didn't get any numbers that way.
But there are people I know who've made it [interfaith marriages] work. There has to be a great deal of respect there. I mean, there's this story about a woman married to a man who was not Orthodox. The husband went up to the priest and said, "Father, I'm not Orthodox and have no interest in being Orthodox, but I've noticed that after my wife takes communion, she's so much more beautiful." Your partner has to realize that this religious experience is what brightens your life, that it's what gives meaning to what you do and who you are. If you can make a marriage work from there, you can build on it and work on it. I know people who've done it, but there's a major part of a marriage you're not going to get.
And then, you might actually succeed in converting your partner, and then they're a crazy convert. You go out to eat during Lent and they've ordered shrimp, asking the waiter if it's cooked in canola oil or olive oil. It takes three years to get over the crazy convert stage—three years to learn moderation, then you're dating a spiritual infant, and you have to wonder–are you willing to put up with that?
E: Ok, so given our small dating pool, I've have friends threaten to put me up on Orthodox dating websites. What's your view on meeting people online?
T: Well, dating online couldn't be a substitute for meeting people by any means. It's a good way to broaden horizons of who's out there, to meet people and chat with them. The wedding I went to yesterday, for example. The couple had vaguely known each other in middle school. She'd moved to Florida, and they reconnected on MySpace years later. He was half Serbian, and they began talking on the internet more and more. After a while, he went to Florida to meet her, he got more interested in Orthodoxy, and now they're married. The internet can be a good way of meeting people, especially long distance. But can the internet be a substitute for Holy Spirit? I don't think that's true. I think you still need to pray and to accept what happens as a gift from God. The internet can also be a way to meet really crazy people who don't deal well with real humans. They're at home banging time on computer trying to solve problems. So you have to be careful of people using the internet to try to come to terms with something.
And all those websites that are "scientifically proven?" Well, Scientific American Mind in 2007 took on dating websites. Even if you were to believe data from eHarmony, you'd still only have to go on 346 dates over 19 years to have a 50% chance of marrying the person you've met, probably a lot lower. These websites have never allowed outside researchers to test them or to know what "the system" is. From a personal perspective, though, OrthodoXCircle is quite helpful. I met my wife is July of 2006, but I didn't get her phone number that day (there were too many priests). She found me on OrthodoXCircle.com about a month later. We were living in the same area, so I asked her on a date. It works more like an interactive phone directory so we were able to meet that way.
E: Ok, so some people try to use the internet like a matchmaker. I feel like I've been set up through many a "matchmaker" lately. Do you think matchmakers work as a method of meeting a partner?
T: Well, you have the hobbyist matchmaker, who's a social person who likes to introduce you to others. Like if you're at a party, they'll say, "Hey–go have a talk with Nicky, he's cool," and in that way, they can help you meet people. But the hobbyist matchmaker doesn't think of the consequences of their actions, and so you can be matched with someone who's [already] dating someone, or with someone with a direct opposite personality. My general rule is to ask, "When's the last time you talked to that person?" If it's been over a month, the match is useless.
Then you have the philosopher matchmaker who thinks everyone should be married by 15 and has endeavored to make it occur, so there's lots of pressure. That's usually the "crazy convert," who thinks that b/c the Theotokos had Christ at 14, that that's how it should be. I met a man who had one daughter had run away and gotten pregnant by her boyfriend. He was so distraught that he tried to set his 14 year old daughter with me, and I was 24.

I think that matchmakers can work in a cultural setting when the family is supportive of it. It usually consists of a single woman and a single man in the same town where the families set up the meeting. In Palestinian culture, it's a very common practice. There always has to be the element of choice in it. Matchmade marriages in those cultures have a higher rate of success than marriages here, because there's higher importance placed on marriage as spiritual covenant. The community support allows matchmade marriages to work better.
E: Well, those are all the questions I can think of. Do you have any closing remarks or suggestions?
For [single] Christians, it's super important to realize that it's not your struggle, not your job…it's the Holy Spirit's job. Trying too hard is going to make it more difficult for you. I can't tell you how many times I violated that principle, by trying too hard, like taking 200 mile trips to visit girls who hadn't indicated one way or the other how they felt, but I was thinking "Oh! She said I could visit so I'd better go!" When you push that far or that hard, you're going to get disappointed. The real change came when I said I was finally ready to be a bachelor for a little while. I got to be a happy bachelor for about a month. And after that I met Miri and things got a lot better.