October 1, 2013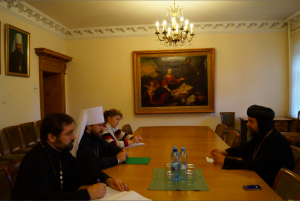 On 30 September 2013, Metropolitan Hilarion of Volokolamsk, chairman of the Moscow Patriarchate's Department for External Church Relations (DECR), met with a hierarch of the Coptic Church, Bishop Serapion of Los Angeles.
They were joined in the meeting by archpriest Dimitry Sizonenko, DECR secretary for inter-Christian relations, and Ms Margarita Nelyubova, a DECR staff member.
While talking about persecution against Christians in Egypt, the guest said that radical Islamists had burnt over sixty churches during the last two years, and many Coptic Christians had been killed or forced to leave their homeland. On behalf of the Coptic Church Bishop Serapion thanked the Russian Orthodox Church and the government of Russia for support and solidarity with the Coptic community.
Metropolitan Hilarion said: "We are worried over the rise of fundamentalism in the Middle East in general and in Egypt in particular as Christians, the native residents, have to leave their homeland. We are willing to exert all necessary efforts for putting an end to the profanation of the shrines and violence against the ancient Coptic community."
Also discussed were the re-opening of the work of the Commission on Dialogue between the Ancient Oriental Churches and the Local Easter Orthodox Churches and a possible visit of the head of the Coptic Church, Pope Theodoros II, to Russia and pastoral care for the Coptic community in Moscow.
Source: DECR