September 19, 2013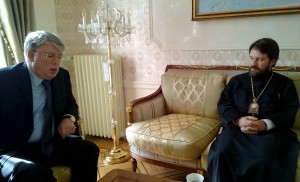 On 19 September 2013, Metropolitan Hilarion of Volokolamsk, chairman of the Moscow Patriarchate's Department for External Church Relations, met with H.E. Ambassador Alexey Borodavkin, Permanent Representative of the Russian Federation to the United Nations Office and other International Organizations in Geneva.
Metropolitan Hilarion informed Mr. Borodavkin of the results of the Consultation on the Syrian crisis, organized by the World Council of Churches the day before.
The participants in the meeting discussed a range of issues concerning the political settlement in Syria, the whole Middle East and in North Africa. Special attention was devoted to the issue of the centuries-old Christian presence put in jeopardy due to political changes that have taken place in the region in recent years. Metropolitan Hilarion and Mr. Borodavkin expressed their concern over the banishment of the Christian population that will lead to irreversible cultural and social losses in the region.
The participants in the meeting expressed their willingness to continue their fruitful cooperation in this sphere of international relations.
Taking part in the meeting was also Archpriest Mikhail Gundyaev, representative of the Moscow Patriarchate at the World Council of Churches.
Source: DECR