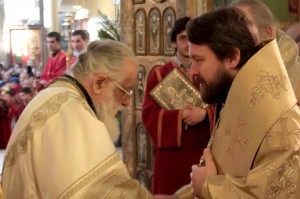 January 14, 2013
On 13 January 2013, during the celebration of the eightieth birthday of His Holiness and Beatitude Catholicos-Patriarch Iliya II of All Georgia and the thirty-fifth anniversary of his enthronement, the Divine Liturgy was celebrated at the Cathedral of the Holy Trinity in Tbilisi (Sameba). Participating in the Liturgy was the head of the delegation of the Russian Orthodox Church, Metropolitan Hilarion of Volokolamsk, chairman of the Moscow Patriarchate's Department for External Church Relations, and a member of the delegation, Bishop Roman of Yakutia and Lensk.
Celebrating the Liturgy were His Holiness Patriarch Bartholomew of Constantinople; His Holiness and Beatitude Catholicos-Patriarch Iliya II of All Georgia; His Holiness Patriarch Irinej of Serbia; Metropolitan Kyrill of Varna and Veliki Preslav, locum tenens of the patriarchal throne of the Bulgarian Orthodox Church; His Beatitude Metropolitan Christopher of the Czech Lands and Slovakia; ordained heads and members of the delegations of the Local Orthodox Churches; and archpastors and pastors of the Georgian Church. Praying at the service were Mr. Bidzina Ivanishvili, Prime Minister of Georgia; Mrs. Manana Kobakhidze, vice speaker of the Georgian Parliament; Georgian politicians and public figures.
After the Liturgy, Metropolitan Hilarion read out in the Georgian language the message of greetings from His Holiness Patriarch Kirill of Moscow and All Russia to the Primate of the Georgian Orthodox Church and presented him with a replica of the Kazan Icon of the Mother of God.
Source: DECR