October 16, 2013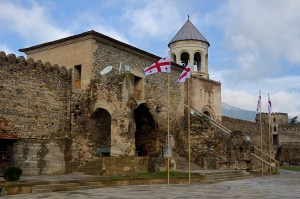 On 14 October 2013, the Georgian Orthodox Church celebrated the feast of Mtskhetoba-Svetitsokhoveli dedicated to the great shrines of the Life-Creating Pillar and the Chiton of the Lord, which was brought to Georgia in the 1st century. The feast is celebrated in Mtskheta, the ancient capital and spiritual centre of Georgia, where the shrines are kept.
His Holiness and Beatitude Iliya II, Catholicos-Patriarch of All Georgia, officiated at festive Matins and the Divine Liturgy. Hierarchs and clerics of the Georgian Orthodox Church concelebrated. Hieromonk Stefan (Igumnov), a DECR staff member, who arrived in Georgia with the blessing of Metropolitan Hilarion of Volokolamsk, participated in the service.
Praying were Prime Minister of Georgia, Bidzina Ivanishvili, his wife, representatives of the diplomatic corps accredited in Tbilisi, and many pilgrims, including a delegation of the Russian Club of Orthodox Patrons of Art and Literature.
Source: DECR