On 29 July 2012, a delegation of the Bulgarian Orthodox Church arrived in Ukraine to take part in the celebration of the 20th anniversary of His Beatitude Metropolitan Vladimir's tenure of office. The delegation visited the Monastery of the Entrance into the Temple of the Birth-Giver of God in Kiev.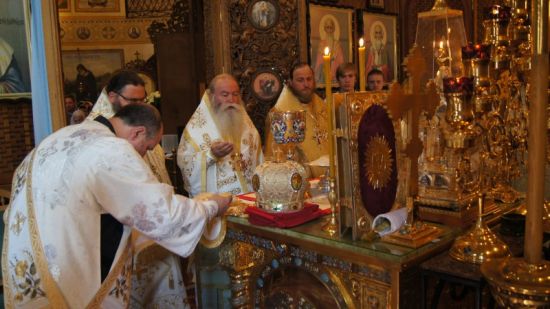 The Divine Liturgy was celebrated at the main church of the monastery by Metropolitan Gavriil of Loveč, head of the delegation, together with Metropolitan Ioann of Snepole, who accompanied a delegation led by Bishop Nikodim of Rovenki, a vicar of the Lugansk diocese; archimandrite Damian (Davydov), abbot of the monastery; the brethren and ordained guests.
Archimandrite Damian thanked Metropolitan Gavriil for common worship and asked for his prayers for the brethren of the monastery and parishioners.
Members of the delegation visited St. Demetrius' church-sepulchre with the relics of St. Dimitra of Kiev, a native of Bulgaria, who built the first church of the monastery in the 19th century.