August 9, 2013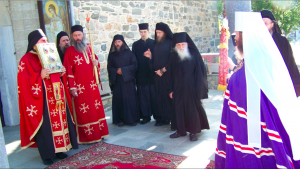 August 8, 2013 – A delegation of the Russian Orthodox Church, sent by the Holy Synod to take part in the celebrations on the occasion of the patronal feast of the Russian Monastery of St. Panteleimon, arrived on Mount Athos.
The delegation included Metropolitan Rostislav of Tomsk and Asino, head of the delegation; Archbishop Onufry of Kharkov and Bogodukhov, Bishop Veniamin of Borisovka, and Hieromonk Stephan (Igumnov), a DECR staff member. Arriving on Mount Athos together with them was A. Popov, Russia's Consul General in Thessaloniki.
On August 7, the pilgrims of the Russian Orthodox Church visited Thessaloniki to venerate the shrines in the northern capital city of Greece. They visited the Monasteries of St. Anastasia the Breaker of Chains and St. Theodora of Thessaloniki, the Catacombs of St. John the Baptists in the historical center of the city, the Cathedral of St. Gregory Palamas and the Basilica of St. Dimitrios of Thessaloniki.
Upon their arrival at the St. Panteleimon Monastery, the guests were welcomed at the gates by its abbot, Archimandrite Jeremiah, and the brethren. They venerated the honourable relics of the Holy Protomartyr Panteleimon. Metropolitan Rostislav thanked the brethren for the warm welcome and conveyed to them a message of greetings from His Holiness Patriarch Kirill of Moscow and All Russia.
On the same day, the delegation visited the St. Andrew Hermitage and the Koutloumousiou Monastery and saw the restoration work at the Old Rusik Monastery. Archbishop Onufry gave to St. Andrew's Monastery an icon of St. Athanasios Patellarius with a part of his holy relics.
Source: DECR