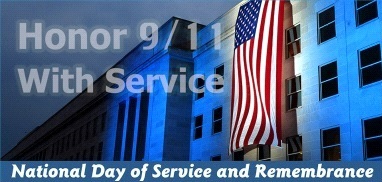 The Orthodox Church in America's Department of Christian Service and Humanitarian Aid is calling attention to the solemn 12th anniversary of the September 11, 2001 terrorist attacks on the USA.
According to Donna Karabin, department chair, "on that day, Americans are asked to fly flags at half-staff and to observe a moment of silence beginning at 8:46 a.m. EDT—the time of the first plane crash.  Many churches will hold services to offer prayers on behalf of the 2,993 lives lost—Orthodox Christians among them—in New York City's World Trade Center, at the Pentagon in Arlington, VA, and on Flight 93 that crashed in Shanksville, PA.  Also remembered in prayer are the 9/11 survivors, families, rescue and recovery workers, volunteers, and the nation at large.
In December 2001, the annual observance of September 11 was designated as "Patriot Day."  Later, in April 2009, it became known as "National Day of Service and Remembrance," inspired by the remarkable spirit of unity, compassion and service that arose immediately following the attacks. Americans are asked to reclaim that spirit by especially serving in their communities on that day.
"The National Day of Service and Remembrance on September 11 is now the nation's largest day of charitable outreach activities," Donna said.  "Last year a record 35 million people observed 9/11 by performing good deeds and engaging in service projects to help others."
The Department of Christian Service urges clergy and the faithful across the country to observe the National Day of Service and Remembrance through compassionate outreach to those in need in their own parish communities, neighborhoods, hospitals, nursing homes, homeless shelters or any number of other volunteer opportunities in cities and counties. Research of local media will provide information on organized events.
A reflection on the 9/11 attacks by Ginny Nieuwsma and a list of Orthodox Christians who lost their lives in the 9/11 attacks may be found here.
Source: OCA