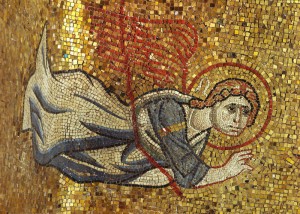 June 11, 2013—In December 2010, the Dumbarton Oaks Image Collections and Fieldwork Archives (ICFA) team rediscovered films documenting some of the Byzantine Institute's most important fieldwork—in a freezer. After more than two years of restoration and digitzation, the 14 films were recently published online.
"We recognized that these were really unique materials. The films are a treasure trove for the study of Byzantine art, particularly since they relate directly to other archival materials and photographic documentation in our holdings," said Shalimar Fojas White, manager of the ICFA. She added, "We had to act quickly if we wanted to preserve them because we detected vinegar syndrome—or acetate decay."
The films, made between 1930 and 1950, focus on the Byzantine Institute's field work at the Red Sea Monastery of St. Anthony in Egypt,Hagia Sophia and Kariye Camii in Istanbul, Turkey and also document the conservation and restoration techniques employed by the Byzantine Institute's staff.  The Hagia Sophia films, for example, feature fieldworkers restoring the North Tympanum Mosaics, which had been covered in plaster in the 19th century when the building served as a mosque.
Following consultation with colleagues at the Library of Congress's Packard Campus for Audio-Visual Conservation and theSmithsonian Institution's Human Studies Film Archives and support from Jan Ziolkowski, director of Dumbarton Oaks, and Arthur Kingsley Porter, professor of Medieval Latin, ICFA had the films reformatted and digitized. Fani Gargova, Byzantine research associate, hopes to publish an online exhibit relating the films to fieldwork notebooks and other documents in the collection.
Dumbarton Oaks Research Library and Collection is an institute in Washington, DC administered by the Trustees for Harvard University. It supports research and learning internationally in Byzantine, garden and landscape and pre-Columbian studies through fellowships and internships, meetings and exhibitions.
Source: Harvard Library Portal