May 5, 2013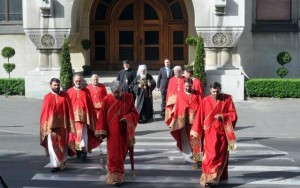 Orthodox Christians mark Easter today. Serbian Patriarch Irinej served the Easter liturgy in Belgrade's Cathedral Church.
The celebration started at midnight with bell-tolling, liturgies and first prayers in front of St. Sava's Temple.
The midnight liturgy was held in St. Sava's Temple by the patriarch and was attended by Prime Minister Ivica Dačić, presidential advisor Oliver Antić, Princess Jelisaveta Karađorđević and representatives of religious communities.
Irinej stressed that peace was badly needed in the world we lived in, where there was plenty of injustice and evil.
He added that the "Lord will bless his people and all those who carry him in their hearts and celebrate him".
"Let the joy of the Easter holidays fill our homes, let it bring happiness in our homes but primarily in our hearts because if it is in our hearts, it will also be in our homes, where we work and live, in every place," the patriarch pointed out.
The Serbian Orthodox Church (SPC) adheres to the Julian calendar and celebrates Easter today.
Source: B92