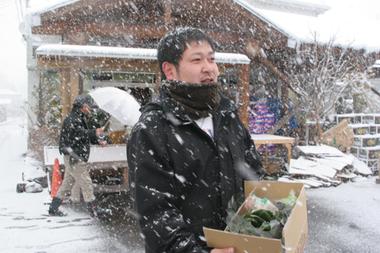 As you read magnitude 9 earthquake attacked the northeastern part of Japan. And 30 feet tsunami swept through the east coastal areas in Iwate, Miyagi and Fukushima Prefecture. In addition to that, serious trouble happened in the nuclear station in Fukushima.
We received many emails with love and prayers and inquiries from brothers and sisters throughout the world.
For the time being, the websites of the Orthodox Church in Japan and the Eastern Japan Diocese are still under difficulties to upload new information. On behalf of them, Western Japan Diocese website provides current news available.
Mar.17, 2001
Second message by Bishop Seraphim and report on the state of church
Since the disaster happened, we are so grateful to many letters and emails from in and out of Japan. Although communucation is still short, we have been collecting information using various tools. Little by little, we could see the situation of churh and parish members. >>>read more
Mar.17, 2001
Fr. Vasilii Taguchi is safe!
Sendai church got contact with Fr. Vasilli and Matushka Maria. The St. John church building survived, too. The first floor ofthe temple and meeting hall were flooded. But second floor is usable. Lay leader is walking around the town and visiting members.
Mar. 17, 2001
Contribution for financial aide started
The Orthodox Church in Japan started invite contribution for the church and parishioners suffered.
In detail, please see the official website of OCJ, soon be recovered.
The Orthodox Church in Japan
http://www.orthodoxjapan.jp/
Relief donation from abroad
Payee Account Number  : 00150 – 0- 47756
Payee Name  :  NIHON HARISUTOSU SEIKYOUKAI
Payee Address :  4-1, KandaSurugadai, Chiyoda-ku, Tokyo. 101-0062, JAPAN
Payee Telephone Number :   03-3291-1885
---------------
"Currency : USD"
Intermediary Bank Deutsche Bank Trust Company Americas NY
Intermediary Bank BIC(SWIFT Code): BKTRUS33
Beneficiary Bank : Japan Post Bank
Branch : Head Office
Beneficiary Bank Address : 3-2, Kasumigaseki 1-chome, Chiyoda-Ku, Tokyo
100-8798, Japan
Beneficiary Bank BIC (SWIFT Code): JPPSJPJ1
Beneficiary Bank CHIPS UID : 427593
--------------
" Currency : EUR "
Intermediary Bank : Deutsche Bank AG Frankfurt
Intermediary Bank BIC(SWIFT Code): DEUTDEFF
Beneficiary: Bank Japan Post Bank
Branch : Head Office
Beneficiary Bank Address 3-2, Kasumigaseki 1-chome, Chiyoda-Ku, Tokyo
100-8798, Japan
Beneficiary Bank BIC (SWIFT Code): JPPSJPJ1
Beneficiary Bank CHIPS UID : No-need
---------------
Detailed information on remittance:
"Deposit to Japan Post Bank Account"
http://www.jp-bank.japanpost.jp/en/djp/en_djp_index.html
Source: http://www.orthodoxjapan.jp/