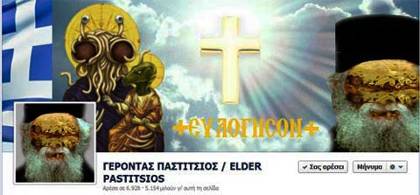 Investigation against creator of satirical Facebook profile that ridiculed a well-known deceased Orthodox monk was sparked by a complaint from the neonazi Golden Dawn party.
The blogger behind the satirical figure Elder Pastitsios, which was said to ridicule a well-known deceased Orthodox monk, has been sentenced to ten months' imprisonment – suspended for three years – for "insulting religion".
Filippos Loizos was arrested at his home in September 2012 by the police's electronic crimes unit, which claimed they had received thousands of complaints about the Facebook profile he had built around the fictitious Elder Pastitsios.
His arrest on charges of malicious blasphemy and offending religion generated worldwide interest in the case, setting a Twitter hashtag relating to the case – #FreeGeronPastitsios – trending.
The fictional character Loizos created was based on well-known deceased Orthodox monk Elder Paisios, venerated by many for his miracles and prophecies.
The satire took Paisios' name and image, substituting it with pastitsio – a Greek pasta and béchamel sauce dish – in a manner similar to Pastafarianism, an international satirical movement that promotes irreligion.
The authorities were alerted to the existence of the Elder Pastitsios page on Facebook by newly elected neonazi Golden Dawn MP Christos Pappas, who tabled a question about it in parliament.
Pappas, now in jail facing charges of involvement in a criminal organisation, said the character "taunts, mocks and tries to humiliate a sacred figure of Greek Orthodoxy, Elder Paisios". He demanded that the education minister, who also has responsibility for religion, take action against the page.
Loizos was arrested four days later.
Source: Enet.gr