Protocol 68/13
April 28, 2013
Palm Sunday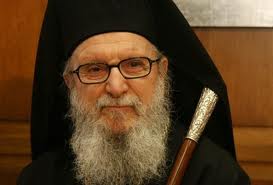 To the Most Reverend Hierarchs, the Reverend Priests and Deacons, the Monks and Nuns, the Presidents and Members of the Parish Councils of the Greek Orthodox Communities, the Distinguished Archons of the Ecumenical Patriarchate, the Day, Afternoon, and Church Schools, the Philoptochos Sisterhoods, the Youth, the Hellenic Organizations, and the entire Greek Orthodox Family in America
Beloved Brothers and Sisters in Christ,
As we gather today on this beautiful feast of Palm Sunday and proclaim Blessed is He Who Comes in the Name of the Lord, we see before us in the entrance of our Lord into Jerusalem One who is filled with compassion for His people.  This is a divine love that we share and celebrate in this holy Lenten season as we draw nearer to God and experience His abundant grace.
It is through this grace that we are led to respond to the needs of others, and on behalf of the Holy Eparchial Synod of our Holy Archdiocese in America, I am writing to you concerning our brothers and sisters in Cyprus.  Just as our hearts have been burdened by the struggles of the people of Greece, and you the faithful of the Church in America have responded in generosity and love, we now see the economic and physical hardships that recently emerged and plague Cyprus.  From our shared heritage and faith, from the many familial and community ties among our community in America, from our love of these lands and their people, but most importantly, from our faith in our Lord and in response to His grace, we are called to offer from our abundance so that those in need may find relief, comfort, and renewed hope.
With the people of Cyprus in our prayers as we enter this blessed Holy Week, I ask our faithful to gather offerings on Palm Sunday for The Relief Fund for the People of Cyprus and to continue in the weeks and months ahead to offer assistance in this effort.  Through this compassionate and dedicated response to the needs of these beloved people, light will shine in the darkness and fear will be dispelled by the power of God's grace.
May I also wish you and your families a blessed Holy Week, as we gather with our brothers and sisters in Cyprus and Orthodox Christians around the world in offering a witness of the hope and salvation in Christ.
With paternal love in Him,
†DEMETRIOS
Archbishop of America
All contributions should be forwarded to the Greek Orthodox Archdiocese, 8 East 79th Street, New York, NY 10075, and designated for the Relief Fund for the People of Cyprus
Source: GOARCH