Source: St. John the Baptist Greek Orthodox Church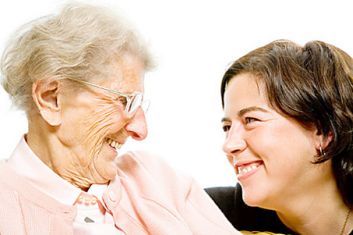 A grandmother and her daughter recently came to see me with some concerns – among them were the grandmother's worries about her health. In our conversation, it became clear she did not want to become a burden to her children. When I asked her if her children saw her as a burden, she quickly replied, "Of course not!"
Undoubtedly her daughter, who was present, did not see her as a burden. Yet this attitude on the part of our society toward the elderly is becoming increasingly prevalent. The visit resulted in a wonderful conversation about the blessings of responsibility.
One of the gifts we have received from God is free will. This freedom of self-determination makes possible the greatest of all virtues and powers: love.
Free will also presupposes responsibility. We are accountable for our actions, for our thoughts and for our decisions.
One of the current maladies of our society is an increasing avoidance of personal responsibility, largely because we do not see it for the gift that it is. I asked this grandmother who feared becoming a burden to her children if she thought it burdensome to raise those same children when they were young. She smiled, looking over at her daughter sitting beside her, and that smile spoke a thousand "nos."
She knew God's gift of motherhood provided her the opportunity to be enriched and deeply changed for the better. Motherhood bestowed upon her the chance to cooperate with God in bringing new life into this world, to give her own flesh and blood to another.
Raising her children gave her the opportunity to exercise self-sacrificial love and patience. She was able to nurture and help shape the future through her children. All her gifts and talents and all that is good and noble were brought out through caring for her young children. Although it was difficult and challenging, certainly she did not consider it a burden.
Blessed responsibility
The blessed gift of responsibility expressed through child raising is often maligned today. Too many see it as an infringement upon their freedom. This sadly occurs because too many have accepted the lie that true fulfillment can be found in oneself.
The truth is that we are at our best when we are seeking opportunities to serve others, especially when we are able to see in them the face of God.
We then applied her feelings about spending the time and energy to raise children to her own children and their responsibility to their parents. It is a very natural part of the cycle of life for children to take care of their aging parents.
Becoming parents does not mean we are mature adults; it is easy to make babies. Raising children responsibly, however, goes a long way in preparing us for adulthood.
In a similar way, responsibly caring for our aging parents and helping them cross over the inevitable threshold of death is anything but burdensome. It is natural and beautiful.
As people age, they naturally become more needy — they begin to resemble children in many ways. Life comes full circle. The children grow up and have the blessed opportunity to take care of their parents. Love is answered with love; self-sacrifice is rewarded with self-sacrifice.
The children who were born into a loving, nurturing environment provide the same for their elderly parents.
Circle of life
Much of the sting and mystery of death is removed when the family surrounds their loved one in the final season of their life. Preparing a loved one for death, in the familiar and safe confines of their own home, in the loving embrace of their children, brings all involved face to face with their own mortality. It is a college education in the true meaning of life.
So many people today are lost at the midpoint in their lives largely because they are not ready to die. They fear death because they have not feared God. Consequently, they are not ready to meet him or to face eternity.
Many of the same reasons that motivate the young to value worldly pursuits over the blessed responsibility of raising children full-time also motivate the middle-aged to look to similar pursuits for fulfillment rather than finding peace and joy in using their time, their talents and their resources to care for their aging parents.
That grandmother came into my office believing she was a burden. Through our conversation, she reflected with her daughter and me the joys of her own motherhood. It was through this reflection that we all realized what a blessing she is to her own children.
They have a once-in-a-lifetime opportunity to give of themselves to the woman who has given so much. In giving, surely they will learn what she has learned as a mother — that in giving you receive so much more and become the true beneficiary.