Source: Conciliar Press
From the Winter 2009 issue of The Handmaiden Journal (Vol. 13, No. 1)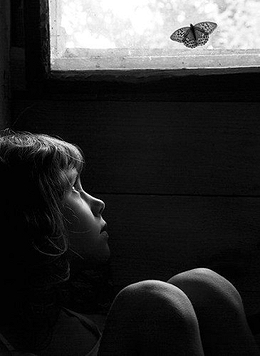 The role of fathers in Orthodox women's lives is an integral one. We worship the Father, Son and Holy Spirit and we seek to be well pleasing to God. We know that God and His Holy Will for us is perfect and that He loves us fully. Our experiences with our human fathers however, range from extraordinary to harmful. What effects do flawed human fathers have on us and how does understanding of God evolve as a result?
In my experience as an Orthodox Christian psychotherapist, I have worked with several women who have had issues with their fathers. These difficulties range from grief at losing a much loved father to struggling with the impact of physical, emotional, and /or sexual abuse suffered at the hands of the father. I have dealt with clients whose futile efforts to relate with their fathers leave them frustrated and impaired in relationships with men. Some women have dealt with fathers who are absent because of death, divorce, or abandonment of the relationship by one or both parties. It is interesting that many people who experience a harmful parental relationship view God as absent, unloving, or even non-existent.
Some women struggle with a concept of God as angry, disapproving, and withholding. It is hard for them to conceive of a God who creates and guides us through the Holy Scripture and the services of the Church, and yet allows us to have free will. Especially when women grow up with aloof fathers, the image of a truly loving godly father can be a foreign one.
When we are raised by a loving father, we experience a wonderful sense of caring and interest from a parent. We have a positive supportive force in our lives, someone who cares for us yet provides structure and limits. If we are blessed to have a father who demonstrates love and care for our mother, it provides a tremendous example of positive adult relationships.
Conversely, if a woman experiences some form of neglect, abuse or disdain from her father it tends to damage her relationship with God as well as with other adult males. The woman can grow up with impaired trust, damaged self-esteem, and difficulty relating with men. Oftentimes women who are hurt in some way by their fathers have difficulty with commitment and maintaining appropriate boundaries in relationships.
If a woman has a nurturing father, it will hopefully include being brought up to love and worship God. Being brought to church and learning about the Sacraments and church life is integral to a woman's spiritual development. Having a father who loves the Theotokos is a powerful experience for a daughter. Reverence for the Mother of God is not only essential for a full spiritual life but is a demonstration of respect for the model for all women.
Sadly, women can also experience negative relationships with their fathers. This can apply not only to biological fathers but to stepfathers, adoptive fathers and spiritual fathers as well. What impact does this have on a woman's relationship with God the Father? Sometimes a client has had renewed devotion and love for God because she experienced His unfailing presence in the midst of her distress. Other times, however, a woman can feel angry with or distant from God as a result of being hurt by her earthly father. A woman can feel betrayed or unprotected by the Heavenly Father if she experiences physical, emotional, sexual, or spiritual trauma at the hands of her earthly parent. It is important to remember that we live in a fallen world and sadly, terrible things happen to the innocent.
Father Thomas Hopko (personal communication November 30, 2008) points out that we are in fact children of God not children of our biological parents. He quotes Matthew 23:9 "Do not call anyone on earth your father, only one is your father, the one in heaven." Father Thomas states "A good father is always an icon of God." The purpose of the human father is to phase himself out in favor of God. Because human fathers do fail at times, we need a new identity in Christ. Our baptisms give us this new identity.
Father Thomas further notes that Saint John Chrysostom stated that we base our relationship with the Father on our relationship with the human father. In our sinfulness and brokenness, we all fall short. Psychological counseling is basically re-parenting. We can go further and say that such counseling should be rooted in the tenets of the Orthodox Christian faith to provide true healing of mind and spirit.
Our experiences with our human father are a crucial element of our lives. More importantly, however, is our relationship with God the Father. God deals with us in our sinfulness and is always ready to receive us back when we truly repent. And forgiveness is one of the great keys toward healing.
Remember that forgiving those who hurt and disappoint us is a journey as well as a goal. Even when we make a decision to forgive a father who has injured us in some way, it can take time to do so. It's helpful to have a support system of other Orthodox Christians to pray for us and for our ability to let go of wrongs. It is also important to be patient with ourselves in trying to let go of pain inflicted by someone we would expect to be trustworthy. Sometimes we take two steps forward and three back, but the important thing is to remain faithful and steadfast in the struggle.
Working on our relationship with God is essential as well. We are so vulnerable to basing our idea of The Father on a human male. God, of course, is beyond our comprehension but we know He gave His only begotten Son to die on the cross for us. Who among us would sacrifice a dearly loved child for any reason? Can we work towards regaining trust in our true Father? This involves prayer and partaking of the Sacraments. Working out a relationship with a spiritual father/confessor can be very challenging and take much time and patience. Trusting again when we've been hurt challenges us to our very core. Visiting a monastery may give us some time and much needed quiet to sort things out. If it is possible to arrange a visit to a woman's monastery that could be a welcome first step in healing.
Prayer is essential for any kind of growth in the Christian life. We are fortunate to have many written resources which a spiritual father or mother could recommend. Reading the Psalms every day, and availing ourselves of those who study them, is a powerful form of prayer. We are blessed to live in a time when 24 hour access to Orthodox programs, such as Ancient Faith Radio, is available. When we feel too frail or depleted to pray ourselves we can join our hearts and souls with others.
One final thing to consider is whether or not psychotherapy could be helpful. If this is a choice for you, it is critical to engage in Christian psychotherapy, preferably Orthodox Christian, though resources are limited. Again, asking a spiritual guide for the name of someone trustworthy is a good place to start.
Lastly, let us consider this true story of Angela (name changed).
Angela was an extraordinary doctor who saved the vision of many people. She personally, however, was spiritually blinded by the years of abuse she suffered while a student at a parochial school. As a result, she had abandoned her faith and was angry with God. It wasn't until she was diagnosed with a fatal illness that she re-examined her relationship with God. She came to realize that she, in fact, had been victimized by sinful men who misrepresented the Father. Angela explored her faith and visited a monastery to learn more about the true ways of the Lord. On her final evening, as she was talking with her nurse, Angela said, "I believe in God. I am ready to go home to the Father." She died the next day. The doctor who touched so many with her skill and kindness went home to her heavenly Father, Who heals all of us.
The Father is my hope; the Son is my refuge; the Holy Spirit is my protector. O All-holy Trinity, glory to thee.
Daria Virvan is a lifelong Orthodox Christian attending church at Saint Nicholas Cathedral in Washington, D.C. She runs an Orthodox Christian psychotherapy practice, Therapia, with offices near Washington, D.C., and Baltimore, Maryland. You can reach her by phone at 301-231-3826.