April 30, 2013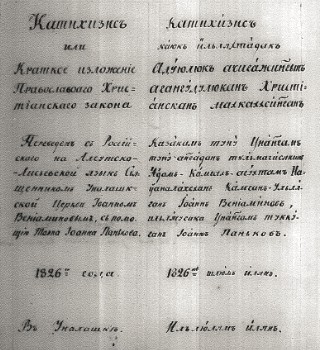 It is with joy that the parish of All Saints of North America, Hamilton, ON, Canada, recently announced its latest electronic publication: an 1826 Orthodox Christian Catechism in the Unangan-Aleut and Russian languages.
"As far as we know, this is the first-ever written text in the Unangan-Aleut language translated by Saint Innocent Veniaminov and Aleut chief Ivan Pan'kov in 1826," explained Father Geoffrey Korz, rector of All Saints of North America Orthodox Church.  "This was some two years after Saint Innocent's arrival in Unalaska in the summer of 1824.  It is my understanding that it is a beautiful text in its original version, very touching in its simplicity while explaining eternal truths.
"Although never published, the 1826 manuscript is a fascinating text linguistically," Father Geoffrey continued.  "It provides the foundation for studying Saint Innocent's initial grasp of the Unangan-Aleut language and how this blossomed into his other Alaskan works of the 1830s and 1840s."
The Alaskan Orthodox Texts Project was saddened to learn of the repose of Archpriest Paul Merculief a few days before the release of the Catechism. Father Paul had been instrumental in assisting the project since its inception in May 2005 until very recently. His knowledge and guidance, but most of all, his warmth and love for Christ, the Orthodox faith and the Unangan-Aleut language, will be sorely missed.
The Catechism may be downloaded from www.asna.ca/alaska/aleut/first-catechism.pdf, while the current library of 63 Alaskan Orthodox texts may be accessed at www.asna.ca/alaska.
Source: OCA