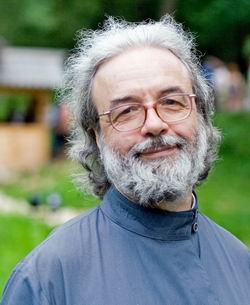 A short biography of fr. Alexander Iliashenko (the creator of Pravmir) and his family.
Father Alexander Iliashenko – a native Muscovite – was born in 1949. He graduated from the Moscow Aviation University (department of aircraft engines), worked in the University of atomic energy of Kurchatov for many years on neutron calculations for nuclear reactors. In 1995, finishing Saint Tikhon's Orthodox University (Theological department) he became a priest. He served in the church of Saint Sergius of Radonezh connected with the Vysokopetrovsky monastery in Moscow .
Fr. Alexander is now the senior priest of the church of Christ the Merciful connected with the "Sorrow monastery" and he also served in the church of St. Nicholas in Kuznetsy. Finally, fr. Alexander is the head of the Moscow Patriarchate division for work with the armed forces.
The family of fr. Alexander holds strong moral and religious traditions. His wife matushka Maria, a pediatrician, who raised twelve children, comes from a religious background. Her grandfather – fr. Vladimir Ambartsumov – was a hieromartyr who was murdered for his faith in 1937. His son, Evgeniy Vladimirovich, also wasn't scared to accept priesthood, even though he had to leave his native Moscow . He had eight children. Three of them are now also priests…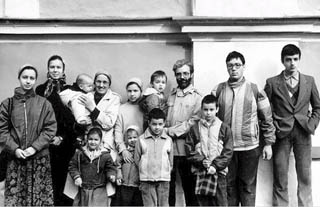 This is an old photo of the family in front of the St. Nicholas church.
It takes a lot of labor to raise a family of six sons and six daughters. But wonderful, sensitive, and gifted, gleaming with warmth, love and kindness, the children of fr. Alexander and matushka Maria are truly God-given.
The oldest daughter, Tatiana, has a PhD in Philology and teaches in school and St. Tikhon's Orthodox Theological University . The subject of her dissertation was "Biblical and Liturgical subjects in the works of Nikolai Leskov". Just recently she gave birth to a son – Vladimir. She also has a daughter, Masha, and a son, Sasha. The oldest son, Phillip- a deacon, history PhD, works at St. Tikhon's University as well. He has five children. Ivan, the next son, loves electronics and services the computers at the University and works on duplicating machines. He has two boys and is awaiting the third child. Varvara, the next daughter, is a professor at St. Tikhon's University.
Alexandra – like her mother – is a pediatrician and has four children. Daniil is a pediatrician as well. Volodya is a student of Moscow State University , historical department. Masha is also a student of Moscow State University , soil science department. Her twin, Katya, is a student at St. Tikhon's Theological University , philological department. Nikolai is a student there too, except in the historical department. The two youngest children, Sergei and Olya go to a specialized mathematical school connected with one of the biggest mathematical universities in Moscow.
Fr. Alexander and matushka Maria already have fourteen grandchildren. All of them will definitely get a strong charge from their background in a big, harmonious, Orthodox family. Many years to all of them!
Look for an interview with the family in the near future!!